Project Type
School Project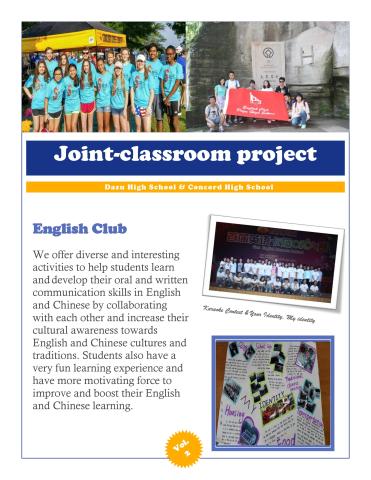 2013 alumna exchange teacher, Tan Lihua, received a CLP grant to help implement a Joint-Classroom Project between her U.S. host school district and her home school in China. The goal of the project was to facilitate opportunities for students in the U.S. and China to develop oral and written communication skills in their target languages, learn about one another's cultures and traditions, and ultimately formalize a sister school partnership between JN Fries Magnet School and Concord High School in North Carolina and Da Zu High School in Chongqing, China.
The project took place over the course of three months, during which teachers organized pen pals/ E-pals activities for all students involved and created a Sister School Club. The Chinese and ESL joint-classrooms took on three major projects: the Folk Tales Project, One Day in the Life Project, and the My Identify, Your Identity Project. In the Folk Tales Project, students participated in live storytelling sessions in which they shared stories in traditional and digital forms, as well as pictures and videos prepared by about traditional folk tales from their countries. The One Day in the Life Project gave students an opportunity to exchange messages and images with one another, describe typical days in their lives, and make cross-cultural comparisons. The My Identity, Your Identity Project asked students to explore and research the elements that form their identities.
After the Joint-Classroom Project, those involved reported a greater understanding of U.S. and Chinese cultures. The Coordinators of the project received positive feedback from students, parents, and teachers of the three participating schools. "The Joint-classroom Project offers our students the opportunity to apply what they have learnt with the native speakers," said Ying Yu, the Dean for the ESL Teaching and Curriculum Department at Da Zu High School. "As a result of this experience, using their target language to learn and communicate with their partners becomes a tangible idea for them, rather than a far-fetched notion – they've Skyped , they've interacted with their American/Chinese peers… they have a sense of what that experience will be like for them, and that makes them want to work twice as hard to learn more about the world." Students' speaking and writing ability, and teacher's teaching ability have had great improvement.