Project Type
School Project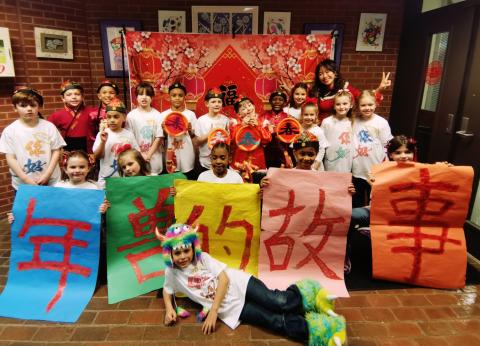 OB Gates Elementary School celebrated the Lunar New Year for the entire month of January 2023. The CLP funds were used to organize the Lunar New Year celebration, which included a cultural carnival, hallway decorations for every class, and a parade. The CLP highlight was the three live gala shows during which students practiced Tai Chi, played traditional instruments, and performed a play. Ms. Chang wrote the script and directed the performance for the folktale "The Story of Nian." Parents and teachers were also invited to perform.
Ms. Chang also created reading corners with picture books, level books, and audio series to help students with studying the vocabulary that they would need related to the Lunar New Year celebration.
In addition, Ms. Chang created a partnership with her home school in Taiwan and her host school for follow-up activities such as recording videos, writing greeting cards, and connecting via the Internet to further mutual understanding and improve American and Taiwanese students' language learning.