Abla Mohammed Rasslan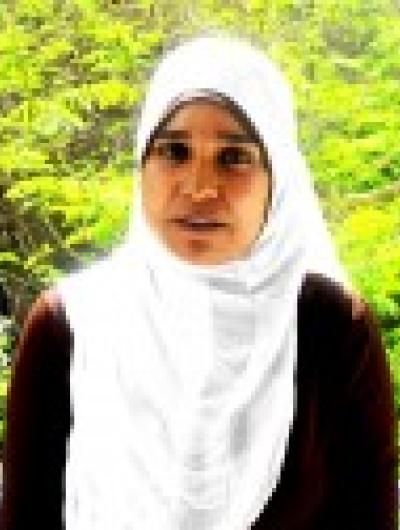 Bio
Abla Rasslan Mohammed is from Dishna and holds a Bachelor of Arts in Education from South Valley University. She has also received degrees in Educational Technology Curriculum and Methods of Teaching English and English Literature. Currently she is working on her Masters degree in Curriculum and Methods of Teaching English at South Valley University. She is also working on a study about translation, as she hopes to work for UNESCO as an interpreter. She speaks English and French and is now learning Japanese and Chinese. Ms. Abla has conducted action research on English reading and teaching language and culture. She is a member of TESOL. She has been teaching English at El Samata Middle School and Dishna Secondary Technical School for Boys (1,000 students and 98 teachers) since 2006. Ms. Abla has participated in many teacher training programs on best practices in teaching methodologies, critical thinking, communicative language and teaching. She is a trainer of trainers and has worked in different training programs for professional development. Ms. Abla is married with one young daughter, and her hobbies include painting on mirrors and playing the flute. Her goals for participating in the Teachers of Critical Languages Program were to bring innovative Arabic language teaching methods to U.S. classrooms, to explore classroom management and student motivation, and to observe student assessment techniques in the U.S.

Ms. Mohammed was hosted by H.L. Harsham Middle School during the 2010-2011 academic year.

Ms. Abla is interested in reading and the arts. She enjoys histories of ancient civilizations and cultures. Learning languages is also a favorite activity of hers. She enjoys learning old or dead languages, and she knows Latin and biblical Coptic. She hopes to learn Runes and Indian languages as well, as she believes that the human heritage of every nation is stored in its ancient history and language. She loves reading about different religions, and she believes that people are great everywhere. She loves meeting new people, making new friends and acknowledging different cultural style. She refuses to the judge certain cultures from only a few people or behaviors, but she thinks that all cultures should be judged through their ideals and values for humanity. She strongly believes that although we may think in different ways, converse in different tongues, dress in different styles and have different views; we are all humans and we all communicate with the same smile.