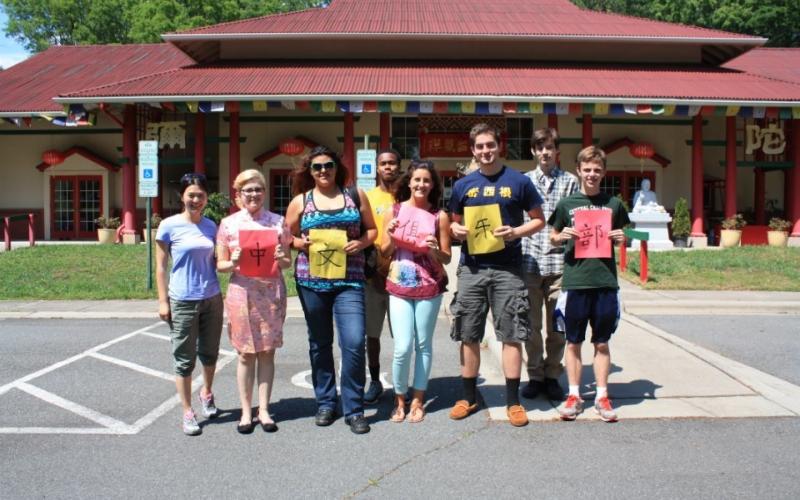 Tan Lihua and Chen Fangfang were awarded Critical Language Project grants.
Tan Lihua (2013-2014) was awarded a Critical Language Project grant for a Chinese Language Club and online Chinese school newsletter at Central Cabarrus High School in North Carolina. The Chinese Language Club program was an intensive Chinese language program that provided extra learning activities beyond the regular learning lessons to students who joined. Throughout the semester, the club members gained a more in-depth understanding of some parts of Chinese culture by participating in a fashion show and learning about clothing, visiting an Asian food market and local Chinese restaurant to learn about food and its important role in Chinese culture, learning how to use a traditional Chinese brush and ink to write calligraphy, and even visiting a Chinese temple in Charlotte, North Carolina. The online Chinese Club Newsletter outlined these activities and more, providing a summary of the club's activities and purpose to the larger school community and increasing awareness of the club's goals.
TCLP mentor teacher Diane Wood and exchange teacher Chen Fangfang (2013-2014) were awarded a TCLP Critical Language Project grant for their Roosevelt Chinese Club. From December 2013 all the way through June 2014, the grant helped establish an on-going Chinese Club at Roosevelt Elementary School, where sixty students in grades K-5 signed up for additional Chinese lessons each week. The Chinese Club gave small group instruction based on Chinese arts, sports, and traditions beyond their regular classroom lessons. The Club activities culminated in a Roosevelt Chinese Night Chat 'n' Chew in May, which featured the club members acting as ambassadors to explain different displays at 15 different language and culture stations. In all, 150 students and parents and 20 faculty members attended the Chinese Night. The grant also helped to fund three outreach trips that the Chinese Performance Team took to two other schools in the district, and a senior center where they performed for 35 seniors. The materials that the grant helped provide will be used for the Chinese club in future years at Roosevelt Elementary School.