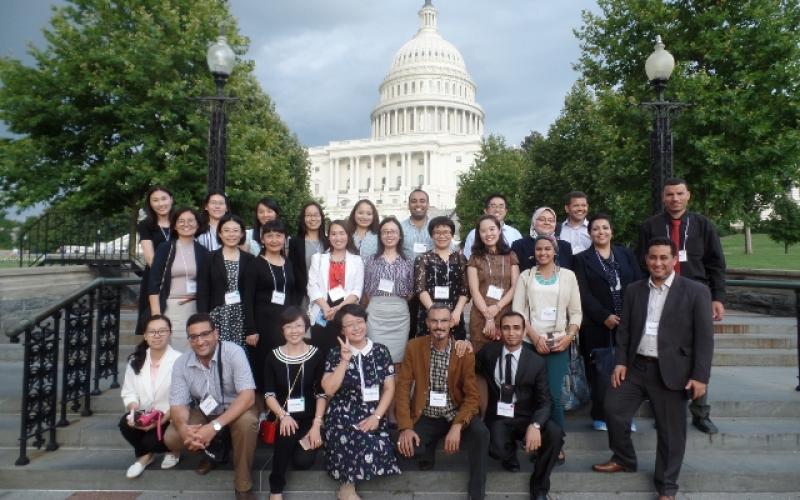 The 11th cohort of exchange teachers from China, Egypt, and Morocco prepare to take on roles as educators and cultural ambassadors in their host schools and communities.
After months of anticipation, TCLP exchange teachers arrived in Washington, DC on August 1st to begin their exchange year in the United States. Throughout the nine-day orientation, participants attended workshops that prepared them to effectively teach and motivate U.S. students, including sessions on Backward Design lesson planning, cooperative and student-centered instructional methods, Multiple Intelligences theory, and American English. Participants also worked with pedagogical experts to create demo lesson plans and had the opportunity to test them with volunteer students. Teachers also had time to bond during social activities, including a bus tour of Washington, DC and a trip to the National Portrait Gallery.
This is an exciting year for TCLP because the new cohort includes two Arabic teachers from Morocco, a first for the program. Ayman Belhiyad will be teaching at Islands High School in Savannah, Georgia and Abdallah El Mouden will be teaching at Bearden High School in Knoxville, Tennessee. TCLP has placed teachers in 19 different U.S. States in various host schools, 15 of which are new to the program, and 11 of which are alumni schools. One of the new schools this year, Joseph Jenks Middle School in Pawtucket Rhode Island, is the school in Rhode Island to host a TCLP teacher. This year they will host Lao Xiaojing from Guangzhou, China.
At the closing ceremony Anthony Koliha, Director of the Office of Global Educational Programs at the U.S. Department of State, spoke to the exchange teachers and mentor teachers about the positive impact TCLP has on teachers, schools and communities. For example, the 2016-2017 group of 24 teachers (16 Chinese teachers and 8 Arabic teachers) collectively taught over 5300 students, completed 1,965 hours of outreach to over 17,000 students, teachers, parents, and community members across the U.S. in places such as feeder schools, senior centers, libraries, and local universities to name a few. They organized after school clubs, cultural festivals, met with senators and mayors, and have done numerous interviews with media outlets always upholding the highest standards and serving as great ambassadors for their host school's language programs, TCLP and ECA, their cultures, and their native language. We have no doubt that this years' group will be just as successful!