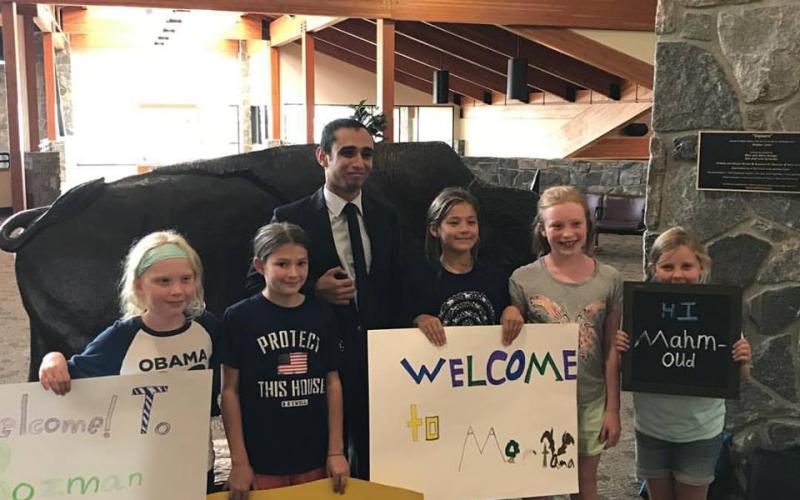 Exchange teachers share stories from their first weeks in U.S. host communities
This fall as schools across the country prepared to welcome students back to class after the summer break, 26 schools selected to receive the Teachers of Critical Languages Program (TCLP) grant opened their doors to the new Arabic or Mandarin exchange teachers who would be joining their faculty in the upcoming year.
To help make their new colleagues feel at home, TCLP host schools planned welcome events, social activities, and professional orientations that allowed the exchange teachers to get to know their new schools and communities.
Exchange teacher Zhu Xiaohong, who will teach Mandarin Chinese at Bodine High School for International Affairs in Pennsylvania, spent her first few weeks exploring the sites in Philadelphia with staff from the World Affairs Council, which has a partnership with the school. She also toured her host school and received invitations to join her new colleagues for meals. "[T]he food and all those experiences are really eye- opening and I am grateful that they make efforts to make me feel at home and comfortable" said Ms. Zhu.
Li Jing, who will be teaching immersion Mandarin at Naselle-Grays River Valley Elementary School in Washington, was invited by her host family to be in the Astoria Regatta parade during her first week in the community. She toured the city from a float in the parade, smiling and waving as well as throwing out candy to the children in attendance.
Some TCLP teachers were also featured by local news outlets after their arrival in their communities.
Fan Xuezhen, Chinese exchange teacher at Jackson High School in Michigan, was featured in the Jackson Citizen Patriot. The article highlighted Ms. Fan's role in launching the Chinese program at the school, which is currently the only school in the county to offer Mandarin Chinese as an in-school subject. "I think she's going to be a fabulous teacher" said Jackson Public Schools Director of Secondary Education in the article. "She has lots of energy, so I really think the students will love the experience and love her as a teacher."
A local NBC news affiliate interviewed Mahmoud Dahroug, who will be teaching Arabic at Irving Elementary School in Montana. Mr. Dahroug shared his plans to foster a fun and inspiring classroom environment. His U.S. mentor teacher, Peter Strand, explained that learning from a teacher from a different culture will be a unique opportunity for students. "They're able now to… really think about the world in bigger ways than usually they can in a classroom, just in their town," said Strand.
TCLP exchange teachers arrived in their host communities on August 10th following a nine-day orientation in Washington, DC. This year's cohort includes 16 teachers from China, 8 teachers from Egypt, and 2 teachers from Morocco. The teachers will be teaching in 19 different states in the U.S.
Links:
http://www.mlive.com/news/jackson/index.ssf/2017/08/new_teacher_at_jack…
http://www.nbcmontana.com/news/ktvm/irving-elementary-welcomes-new-arab…