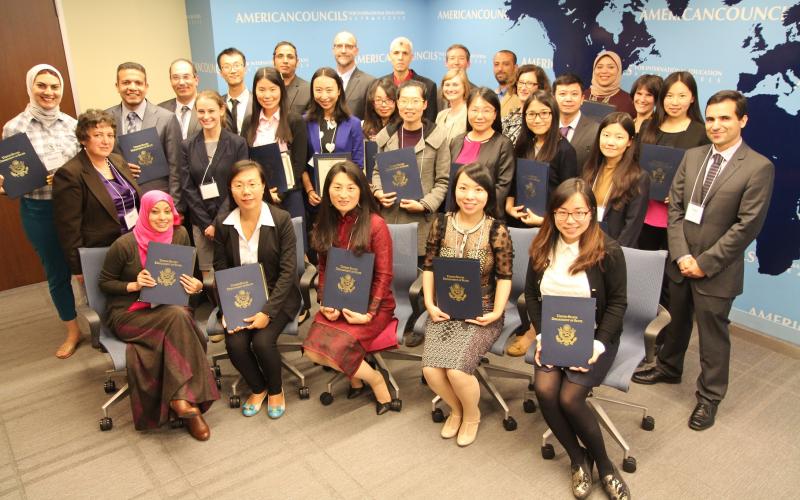 The 2015-16 cohort reflects on the year and shares plans to enact change in their educational communities at home
American Councils welcomed 22 exchange teachers from Egypt and China to Washington, DC during May 5-7, 2016 for the Teachers of Critical Languages Program (TCLP) Spring Leadership Workshop. This end-of-program event was a culminating experience for the educators, who have spent the past nine months teaching Arabic and Chinese language and culture at schools across the United States.
During the Spring Leadership Workshop exchange teachers met with Anthony Koliha, the Director of the Office of Global Educational Programs at the U.S. Department of State, to discuss their achievements from the past year. This year's TCLP teachers collectively reached over 23,000 students, teachers, parents, and community members. They additionally served as cultural ambassadors to their U.S. host communities by conducting more than 2,000 hours of outreach in places such as feeder schools, universities, senior centers, libraries, and community organizations.
Teachers also shared their plans to extend their TCLP experience to their educational communities in Egypt and China. After returning to their home countries, TCLP teachers intend to apply instructional methods they adopted in the U.S. to their classrooms, provide professional training to colleagues, and establish connections between their home schools and their U.S. host schools.
"I will never ever forget what [TCLP has] done for us to help us grow" said exchange teacher Jia Lili, who taught Mandarin at Walnut Elementary School in California. "TCLP is a family that every one of us feels proud of, a program that couldn't have been better, a name that is deeply rooted in my mind!"
This year marks the tenth anniversary of TCLP. Since 2006, the program has sent 213 exchange teachers to 134 U.S. host schools in 36 states and the District of Columbia. In August, TCLP will welcome the next cohort of 24 exchange teachers who will teach Arabic and Mandarin at schools in 15 different states, including one new state: Arkansas.