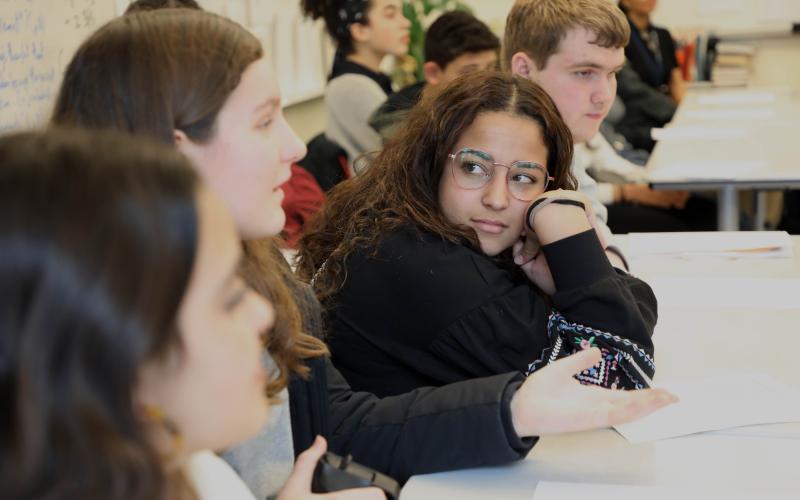 On February 25, 2020, TCLP alumnus Mina Akladios (2008-09, North Atlanta High School, GA) and his students from the French International School in Alexandria, Egypt visited a TCLP host school in Washington, DC for the second year in a row.
In February 2019, Mr. Akladios and his students visited TCLP alumna Hend Elhendy (2018-19) at Theodore Roosevelt High School. This year, Mr. Akladios and 12 of his students visited current TCLP exchange teacher Tamer Genedy at Washington Latin Public Charter School.
After taking a tour of the high school, the Egyptian students joined a first period Arabic class and then joined their U.S. peers for history, math, and English classes during second period. The U.S. and Egyptian students then gathered for a roundtable discussion where they shared ideas about cultural similarities and differences, their experiences learning languages, and the benefits of travel. The students also shared lunch together and the visiting Egyptian students had an opportunity to attend student clubs after classes.
During the school visit, Mr. Ragui Ramses, the French International School Assistant Principal, also had the opportunity to meet with a Washington Latin college counselor to discuss college admissions in the U.S.
In the meantime, both Mr. Akladios and Mr. Genedy plan to build virtual connections between their classrooms through social media, video chats, and more in-person exchanges in the future.
TCLP encourages program alumni to connect and welcomes the opportunity to assist in these connections. If you would like to connect with other program alumni, feel free to reach out to TCLP staff or to your alumni cohort leader. Whether it is through a visit to a TCLP country, a sister school relationship, or a Critical Language Project (CLP), the teachers and their students benefit immensely from contact with each other. The next CLP deadline is November 30, 2019 so get in touch now to begin planning!