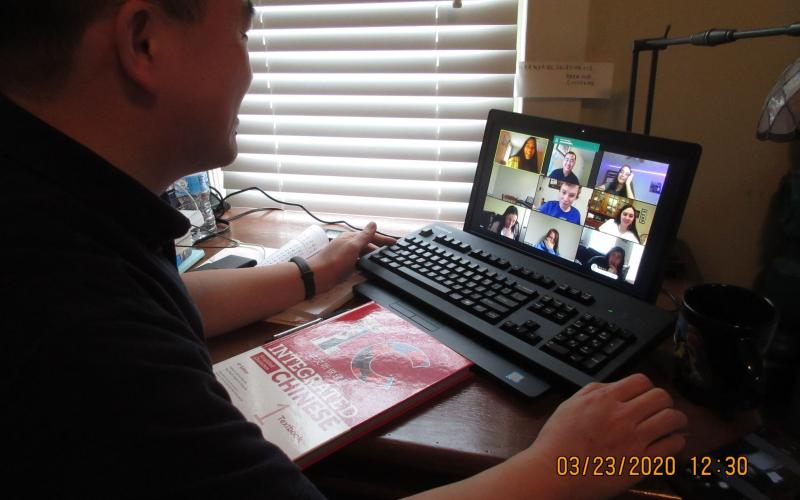 In recent weeks, TCLP teachers have swiftly adapted to virtual teaching and are engaging with their U.S. students by leading live virtual classes, recording instructional videos, and providing other learning materials such as online games and quizzes.
For example, Chen Yu (A.C.E. Academy for Scholars, NY) recently worked with students on writing basic Chinese characters and shared information about the annual Qingming, or Tomb Sweeping, Festival. According to Ms. Yu, "School closure doesn't mean we can't learn."
TCLP teachers are finding creative ways to maintain student engagement in a virtual teaching environment. For example, Amany Malek (Leicester Middle School, MA) and Manal Salem (Nicotra Early College Charter School, NY) are incorporating a number of speaking activities in their Arabic lessons by assigning video projects to students on Flipgrid and other platforms. So far, students have discussed multiple topics including their dream jobs and favorite celebrities. In addition to using digital platforms, other teachers including Nermeen Aboughoneim (PSJA Memorial Early College High School, TX) and Tamer Genedy (Washington Latin Public Charter School, DC) are teaching language through project-based assignments related to health and safety. Ms. Aboughoneim's students reviewed vocabulary and practiced writing by designing posters with the Arabic phrase "stay at home" and Mr. Genedy's students gave informative oral presentations on coronavirus prevention in Arabic.
Outside the virtual classroom, TCLP teachers are also finding ways to connect with community members virtually. Mouloud Mahi (Irving Elementary School, MT) has moved his Arabic Club for adults, which has seven members, online by sharing slideshows related to Arabic language, culture, and cooking through live Zoom meetings. The recorded online sessions are accessible to members of the World Language Initiative – Montana. Ms. Malek has also adapted weekly in-person meetings with a local university student to online meetings. Through Google Classroom, online quizzes, recorded videos and audio files, and one-on-one feedback, Ms. Malek is guiding the student in an independent study of Arabic.
During this challenging time of transition, the 2019-20 cohort of exchange teachers has remained supportive of each other. One teacher reported, "Keeping in touch with each other during quarantine time was such a great support. Contacting each other through social media, phone calls, emails, and Zoom sessions was great to let everyone feel safe and comfortable. It helped to share experiences on distance learning, helping students, and supporting each other. I can say that it helped push everyone forward."