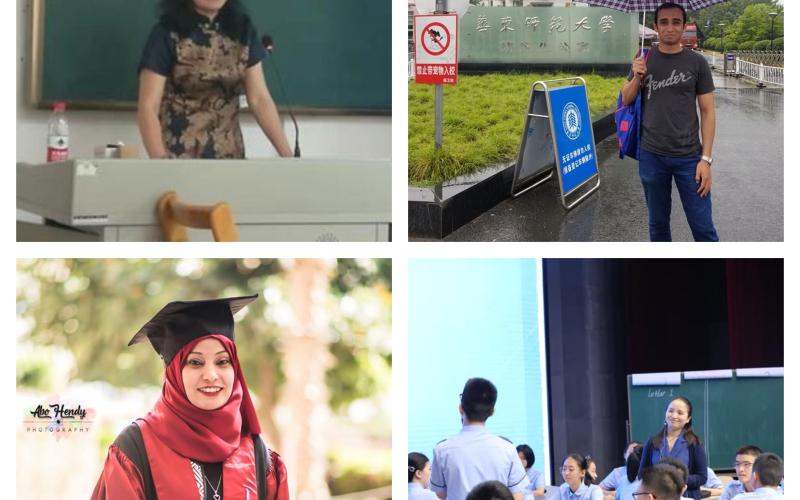 Photos, starting with the top right, moving clockwise: Mahmoud Dahrough, Zhang Wenjie, Amany Kasab, and Bao Qingmei.
TCLP alumni do amazing things after retuning home! Please share your stories of success and accomplishments with TCLP staff and your cohort leader so we can highlight you next newsletter.
Amany Kasab (2015-2016) was hosted by John W. Lavelle Preparatory Charter School in Staten Island, NY. Since returning to Egypt, earned a master's degree in English Teaching in 2018 and have begun to work on her PhD in the same field. She has also started her own Academy for Training and Teaching, open to fellow English Teachers in Egypt, where she practices what she learned with during her time participating in TCLP and her experience in America. She says her hope is "to improve the teaching and learning process in my community and to make it engaging and active as much as possible." She also adds that "I'm so happy that my school John W. Lavelle is still continuing [to] teach Arabic."
Zhang Wenjie (2017-2018), hosted by North Warren Regional High School in Blairstown NJ gave a training to over 1,000 English as a Second Language teachers in her home city of Chongqing, China. Educators from across her city were invited to attend. Her training included a demo lesson with students with her 9th grade students in which she modeled a reading lesson. Students were given two sample letters and then proceeded to use guiding questions to think critically about what they read and to describe their feelings effectively as well as give advice to their peers. Ms. Zhang hopes that her fellow educators will try something similar in their classrooms.
Mahmoud Dahroug (2017-2018) is preparing to embark on a new chapter in Shanghai, China, where he will earn his master's degree in education management. Dahroug taught Arabic in Bozeman Montana at Irving Elementary School and was inspired by what he saw there to transform the Egyptian education system. He hopes this new degree with help him achieve this goal. He wrote in an alumnus update to TCLP "I am really excited about the whole experience; seeing new people, learning [a] new language and getting to know the Chinese culture."
Bao Qingmei (2018-2019), hosted at STEP Academy in St. Paul, MN has already begun sharing the knowledge and skills that she gained through her TCLP exchange with colleagues. This week, Ms. Bao delivered a two-hour presentation about her experiences living and teaching in the U.S. to fellow high school English teachers at her home school in Dalian, China. Ms. Bao looks forward to leading more professional development opportunities in her home school and community in the future.