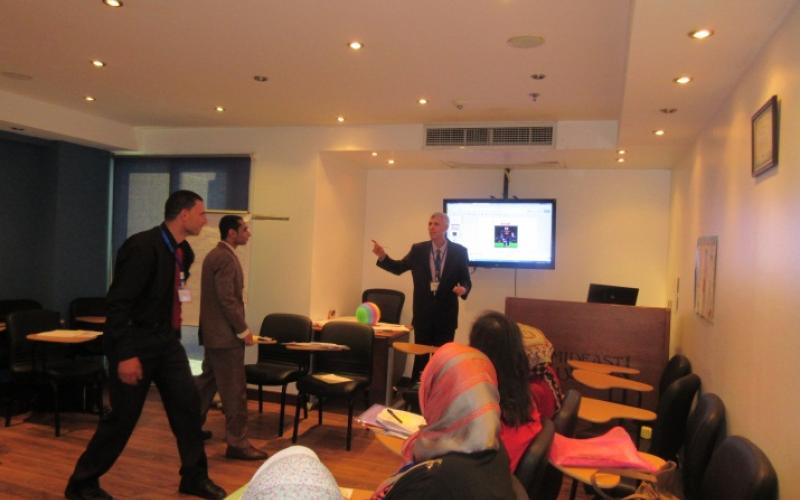 Alumni serve as an invaluable resource at pre-departure orientation.
At both the pre-departure orientation in Beijing and in Cairo this year, program alumni were in attendance to pass on their words of advice and model the skills they gained through TCLP.
American Councils in coordination with ECA designed and conducted Pre Departure Orientations (PDO) for exchange teachers in China and Egypt in June 2017. In China, the American Councils Beijing Office organized the logistics for the PDO, which took place in Beijing during June 23-26, 2017. TCLP program alumni, Tan Jin (2015) and Xing Yali (2015), were invited to attend the PDO to share their TCLP experiences first-hand with the new teachers. They participated in panel discussions in which they provided advice to the teachers for strategies to cope with culture shock and adjust to life in the U.S., as well as answered questions about daily life in their U.S. host communities. Each alumna also prepared a brief demonstration lesson plan to model American teaching techniques and activities.
American Councils conducted a similar PDO agenda for Egyptian and Moroccan exchange teachers in Cairo from June 19-22, 2017. TCLP alumni Ezzat Hassan (2015) and Hanan Gawdat (2012) attended the Cairo PDO and each conducted a mini lesson presentation at the beginning of the second day of the workshop, focusing on student-centered activities, and facilitating discussions about how best to adapt these activities to different age and learner levels.
This year's teachers also had the chance to connect with their alumni buddies to ask questions and receive practical advice before heading off to their year in the U.S. this summer.