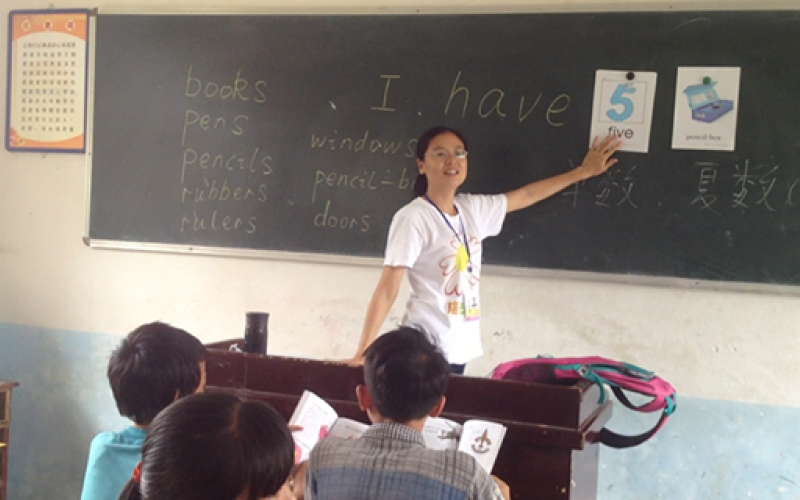 Alumni across the world continue to shine in the second Alumni Spotlight installment
As TCLP celebrates 10 years, alumni exchange teachers across China, Egypt, and worldwide are having an impact in their local communities. Using the best practices they learned in the U.S. and drawing from their experiences in their host communities, TCLP alumni are educational leaders and cultural ambassadors making a difference. Below, you will find the second installment of the Alumni Spotlight for the TCLP Alumni Newsletter. Please continue to share your updates with your cohort leaders and stay in contact with TCLP via email or social media. We look forward to celebrating #TCLP10 through Facebook, Twitter, and WeChat with all alumni!
China 2011–2012 Alumni Cohort:
Cohort leader, Fu Ailing, was a featured presenter at the 3rd annual TCLP Virtual Alumni Training Conference. She shared her experience organizing and conducting both a summer English training program for students and a round table for local teachers focused on best practices in education in the mountainous region of Guizhou, China. Ailing identified that English students in the region lacked many of the resources and instruction available in bigger cities. She was awarded a Critical Language Projects grant to develop and execute these training sessions. Ailing has also given lectures on popular cities and national parks in the U.S. for Chinese students in her home school. Through photos and videos students developed strong and positive impressions of cities and parks in the U.S. Ailing drew from her experience in the U.S. and will continue to share this presentation with more students.
Tang Beiyi went to a rural school outside of Chengdu to give a lecture and training to English teachers last year. She was invited as an expert teacher and she introduced TCLP to the participants. She shared videos and photos from her TCLP experience at Willmar Senior High School in Minnesota. Attendees were eager to learn more about her experience, program, school, teaching methods, students, school activities, and cultural experiences. The presentation generated great enthusiasm in the crowd and many expressed interest in visiting the U.S. and learning more about international education.
Gao Jinghua was invited by Zhuoyue Education Corporation to dub in English their new textbooks and animations. She prepared 20 different voices for each role in the textbook. Though she needed to stay in the dubbing studios for many hours a day, it was a lot of fun for her. She was also in charge of singing 24 songs, including the theme song! She is currently helping to edit books for Tsinghua University Press. She believes "that these individual improvements are benefit from what I experienced in TCLP, in which I know my potential of solving problems, practiced English and exchanged culture and language with American students. Now I'm glad I am fulfilling my dream."
Hu Baojie, together with two other of her colleagues from Jiyuan No.1 middle school, went to Beijing to attend the English Language Fellow Symposium at the Beijing American Center in December. There she met with several TCLP alumni and learned different methods and activities to teach English from four ESL experts. This past September, she was awarded as one of the outstanding teachers, as well as head teachers, in her city. She received the award because she had the most students admitted to top universities and had a great impact at her school.
Fan Caiping organized a series of contests at her school to improve students' oral English and help them learn more about world cultures. The contests included an English speaking competition, an English singing contest, an English movie dubbing contest, and an English debate competition. Students from all grades took part in the competitions. Students demonstrated a great enthusiasm for learning English and were delighted to show what they have learned.
China 2012-2013 Alumni Cohort:
Cohort leader, Sun Ling, has been conducting teacher training workshops in and out of Beijing, attending national language conferences and giving presentations.She's been awarded as the leading teacher in her school district, which requires her to give demo lessons twice a year to the whole school district and setting good examples in teaching and conducting academic research. Sun Ling says through her participation in TCLP she is "bridging cultures between China and the US."
Liu Xi was invited by the New School Academy to give a demonstration of teaching reading and word study courses in Weifang City in Shandong Province. Over the course of two days there were more than 1,000 local teachers visiting Liu' class and they highly appreciated Liu's excellent interaction with students and were impressed by the classroom activities she modeled.
Zhang Juncheng completed his master's degree and recently got married. He is an active participant in his educational community sharing his TCLP experiences and best practices with colleagues. He has given several presentations and training sessions about U.S. teaching methods and educational systems. His students enjoy his English class because he can share with them more about U.S. culture from a first-hand perspective. He and his wife visited his host school district in Kenosha, Wisconsin this past January. During their visit, they were able to setup a relationship with Kenosha Unified School District (KUSD) and his home school in China. This coming January, he plans to bring leaders from his school to Kenosha. Their aim is to develop a teachers' exchange between KUSD and his home school.
Wang Xiaopei, along with Sun Ling, attended the 19th conference of the National Association of Foreign Language Education and gave presentations about the knowledge they gained from their TCLP experiences, which was energetically received by teachers in attendance. They introduced effective ways to organize engaging activities in and out of the English classroom, reflected on best practices in teaching skills learned through TCLP, and they encouraged teachers to apply for the program.
Xing Tan, along with Sun Ling and Liu Xi, attended the 2015 English Education Conference, where they explored important developments in English language teaching and methodology over the past year.
Tian Yuanyuan, along with Liu Xi and Sun Ling, attended the English Language Fellow Symposium at the Beijing American Center, where they received highly effective and engaging training from the Regional English Language Office. They also met with TCLP alumni, exchanged recent teaching stories, and discussed possible research collaboration. Their TCLP experience has encouraged them to continue to actively searching out professional development opportunities through workshops and symposiums.
China 2013-2014 Alumni Cohort:
Cohort leader, Chen Jinyun is teaching EAL, coaches drama club, and is the head-teacher in the Sino-US program in Nanjing Foreign Language School Xianlin Campus. She also leads the Guidance Office in the International Department at her school which she was integral in establishing. She was a featured presenter at the 3rd annual TCLP Virtual Alumni Training Conference. She has made several presentations throughout China sharing information about TCLP. In her classes she has embraced the best practices she learned during her exchange and she shares with colleagues the concepts of Project Based Learning
China 2014-2015 Alumni Cohort:
Cohort leader, Zheng Qiuping, gave a presentation on her TCLP experience to students. They were very interested in this topic and looked forward to taking part in an educational exchange after hearing about her life and work in the U.S.
Xiong Jun visited No.28 Middle School in Qingdao and explored Qingdao city, which warmly reminded her of her travels in the U.S.
Yang Ruirui taught Chinese to 10 U.S. students at Deyang Foreign Language School during this past summer through the National Security Language Initiative for Youth (NSLI-Y) program. This is the fourth year NSLI-Y exchange students have been placed at Deyang Foreign Language School. Her students excelled in learning Chinese in the classroom and they practiced with their host families after school. They also visited a local nursing home where they had a nice chat with the residents and performed a Chinese song. Overall 25 students visited Deyang and she hopes these students will return again.
Liu Jia is teaching 12th graders this year and she was selected as the head of English teachers for this grade. After her TCLP experience, she also started a small language training center with her colleagues. She wants to share what she had observed and learned while on TCLP to enhance language teaching in her community and she hopes this will benefit local students. During her summer break, she went to Malaysia with her family.
Since her exchange, Yang Jing has given a presentation to teachers and principals at the Experimental School of Technology University of Beijing and attended observations at Jiangsu Yixing Experimental School with colleagues. She gave demo-classes at a school in Beijing and at Shanxi Xiangyuan No.2 High School. She also took part in an English teaching conference and presented on English teaching strategies. Additionally, she also participated in a national English teaching contest in Poyang, Jiangxi and an English teaching event at the Beijing American Center.
Egypt 2013-2014 Alumni Cohort:
Cohort leader, Eman Bekheet is teaching at a new high school where she incorporates her TCLP experience into her English lessons. Students find the lessons engaging and are eager to learn more about life in the US. She has attended many training sessions and training of trainers events, and was recently promoted to senior master at her school or Head of the Language Department. She was also nominated to be part of the Teachers First Program. Additionally she attended a reception organized by Minta Madeley, the U.S. Consulate General Alexandria Public Affairs Officer. She shared about her TCLP experience and the program with attendees.
Mohamed Mehanny participated in the Shaping the Ways We Teach English Webinars and conducted professional workshops for all students and teachers. This year, he also attended the Pharos University in Alexandria First International ELT Symposium where he made a presentation entitled "Flipped Teaching: Saves Time, Involves students, and Uses Technology Effectively". He also presented at the Second E-Teacher Alumni conference on "Mentoring & Training: New Concepts and Different Implementations." He was also a featured presenter at the 3rd annual TCLP Virtual Alumni Training Conference.
Egypt 2014-2015 Alumni Cohort:
Cohort leader, Mohamed Abouraya, was selected to be a TOEFL trainer to help teachers who apply for scholarships to travel abroad. He utilizes teaching techniques in his classroom that make learning exciting and engaging, which his students enjoy. He is also coaching soccer at his school and his team has had a winning run!
Ahmed Mohamed is an adviser at a language school in his city and is planning to start an English course as a trainer for high school students to prepare them for scholarship exams.
Mohamed Ali is now a trainer at the English Access Microscholarship Program in Aswan.
Sabreen Kamel has recently started teaching at a middle school, and is excited to work with this new grade level. She has taken on new responsibilities as well, such as the weekly English club, the international school competition, and other ESL activities. At her previous school she gave a three day training to her colleagues. She also attended the Education First professional development training at the Teacher's Academy in Cairo. She is looking forward to collaborating with TCLP alumni in the Alexandria region on education projects and is planning to give a workshop on Understanding by Design lesson planning.
Ali Mohamed is teaching at a private school in Saudi Arabia.