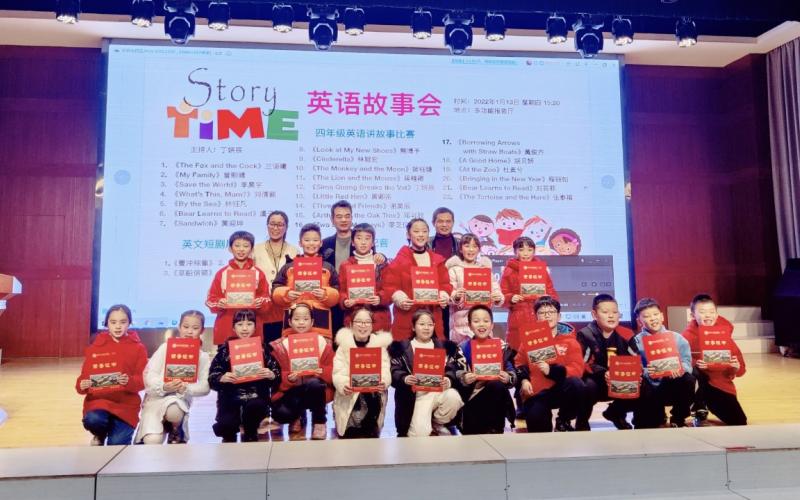 TCLP alumni have achieved great professional success this year.
In September 2020, after returning from her Teachers of Critical Languages Program (TCLP) exchange year, exchange alumna Wang Xiaoyue (2019-2020) established an after-school English theater class at her school (pictured above). She was inspired by the art and drama classes of her U.S. host school, Beethoven Secondary (Edinburg, TX), and her passion for performing. So far, the class has had three seasons with 12-15 students each; in their current fourth season, attendance is up to a total of 33 students. These students spend eight weeks learning their scripts, practicing English vocabulary and sentence structures as they go. They then rehearse for four weeks and then spend the final four weeks of the season either performing on stage or filming movies. Though the class is currently open only to students at Ms. Wang's school (Xingang No.1 Primary School, Xinyu, China), she has presented a demo class to teachers from other local schools to share her ideas and methods.
On March 29, 2022, Teachers of Critical Languages Program (TCLP) exchange alumna Zou Feili, hosted at Bodine High School for International Affairs in Pennsylvania during the 2018-2019 year, was invited to give an online presentation at the Zhaoqing Municipal Education Bureau in Guangdong Province. Ms. Zou gave a lecture on how to help teachers and students prepare for the upcoming college entrance exam. She presented an analysis of exam score data and gave practical suggestions for late-stage exam preparation. Roughly three hundred local 12th grade teachers from senior high schools around the city attended Ms. Zou's lecture. After the presentation, the bureau released an official report praising Ms. Zou's work.
In May 2021, Teachers of Critical Language Program alumnus Anas Elnahriry, hosted at J.W. Reason Elementary School in Ohio (2017-2018), joined the Egypt-U.S. Alumni Council 2021-22 through the U.S. Embassy in Cairo. He was inspired to apply for a position on the council by the outreach activities he did in his TCLP host community and after returning home. As a member of the Alumni Council, Mr. Elnahriry made many contributions, including establishing a think tank for alumni events in Egypt; enhancing alumni community engagement; helping alumni expand their networks; organizing professional training opportunities; sharing job, scholarship, and cultural exchange opportunities; and serving as an ambassador for TCLP. In particular, he addressed the networking barriers alumni faced due to COVID-19 by organizing virtual "Coffee Nights" for both general and TCLP alumni in Egypt.
On May 26 and 27, 2022, the Amideast branch in Alexandria, Egypt hosted a NileTESOL conference entitled "Education in a Post COVID World". On day two of the conference, Teachers of Critical Languages Program (TCLP) exchange alumna Eman Bekheet, hosted at International High School of New Orleans in Louisiana (2013-2014), presented a session called "Online Classroom Management". The session, attended by approximately twelve teachers, focused on virtual classroom management and fostering online communication. Ms. Bekheet asked attendees to reflect on their online teaching experiences and discussed with them online tools that help keep students attentive such as Picker Wheel and Padlet. She was awarded a certificate by NileTESOL recognizing her contribution to the conference.