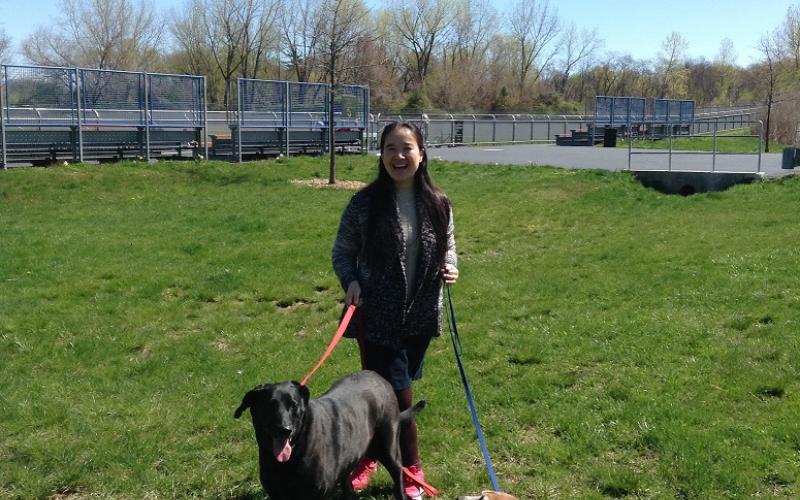 Exchange teachers captured the essence of their TCLP experiences during the school year in the 2014-2015 essay contest.
My First Close Friends by Ruirui Yang
I'd like to share my unforgettable experience with the next year exchange teachers. When I applied TCLP program and I was asked whether I minded pets. I said no, because I really love pets, especially dogs.
My host family has two dogs. One is Labrador and the other is a Dachshund. They are both 7 years old. They did not bark at me when we met for the the first time. I thought I was lucky, and I really had enough good luck with them. The first two days, I used their cookers to cook my own food.When my food was ready, I found there was stainless steel bowl next the sink. It looked like the same bowl I used at home, so without any hesitatation, I put my food in that bowl and ate dinner happily. The next day, I did the same thing. I put two eggs in the stainless steel bowl, stirred the eggs and made fried eggs for myself. Everything went well, until the third day the oldest son in my host family gave me a plate and said" Ruirui, You need a plate?" I was thinking" No, I am OK with this bowl, I do not need more plates." However, he insisted on providing a plate to me. So I took the plate and look around of the house. Oh, my god, I found a same bowl on the corner of the floor. It was the dog's bowl!!! My goodness, can you believe that? I had been using the dog's bowl for three days. I do love dogs, but not so close, sharing the same bowl?
How lucky or unlucky I was! This was a really, really funny experience to me.
At my host family, they clean dogs' bowls with people's dishes together, which we usually do not do in China. They treat pets really nice, like their family members. Theysleep with their dogs every night. They bought a sofa for their dogs, and on festivals they always buy them toys. Dogs are children to them. One of the dog (Burt) is too heavy and legs are too short to go upstairs. So every time they need to carry him to go upstairs. I live in the basement and Burt always likes to come to my room to say hello to me, but he cannot move upstairs. Therefore, I also need to carry him upstairs when he wants to go up. Sometimes he comes to the basement very late at night and I have fell asleep already. No one else is in the basement, either. When he wants to go upstairs, nobody helps him. Then he has his own method. He cries, so loud! I could not believe my ears when I first time to hear he cries. In my home town, we have custom as dog crying brings bad luck. Well, at my host family, I face such kind of "bad luck" every day. Am I lucky or unlucky?
I do believe I am lucky. How lucky I am to stay with such so wonderful host family and spent so many nice festivals with them this year.I appreciated it a lot and we will be good friends forever. You are all welcome to my home, Deyang, Sichuan, China! See you in China!
This was a cultural shock to me.
Being A Better Me by Xiong Jun
It's said studying or working abroad gives a lot of people a second life. I doubted when I first heard about it, but now, I agree. If I wasn't chosen to teach in America by TCLP, I would never have a chance to recognize myself , discover both my potential and shortcomings, and get more perspectives.
To be independent is my first lesson. As you see, I am the only child in my family and never need to worry about doing housework because my parents always take good care of me in every aspect. The only thing I do is to work. Being living alone in America, I have to do everything all by myself. I still remember how excited I was when I cooked my first lotus root and rib soup in my life without any trials. So yummy! ! ! I was so proud of myself at that time because I couldn't cook before I came here. And, from every purchase of food or clothes in the neighborhood to trip around America, I carefully plan my route, book everything in advance. Now it's not hard for me to go somewhere unfamiliar.
America is a big "melting pot". I can meet people all over the world and make friends with them. I was invited to diverse parties like Labor Day barbecue party, birthday party, community party, fundraising party, etc. And I'm so lucky to be in New Orleans! It's just such a unique city with colorful history and never-stopping carnivals and festivals like Mardi Gras parade, American Indian parade, St. Patrick's parade, art festival and Jazz festival, etc. I can always find something new and exciting.
''You can either travel or read, but either your body or soul must be on the way.'' Here I come, here I travel. I almost traveled to every direction of America to appreciate the beautiful scenery and experience different culture and customs. East coast serious and busy, west coast casual and relaxing, south warm and friendly, north chilly. I even traveled outside America to Mexico, an unforgettable memory in my life!
Getting access to different kinds of culture and customs, meeting and traveling with different people, I can view things from different perspectives. I know myself better, become more tolerant and have a better understanding of other people and culture.
Being a Chinese teacher to convey our culture as an ambassador is fantastic. Every time when the kids run to hug me, when they draw pictures or sing songs for me, when parents tell me how much their kids love Chinese, I see the value of my life and it's rewarding! I am really grateful at what I had and experienced. Tomorrow is another day. There will be a better me.
Dream Come True by Wang Haiyan
Sitting among visitors by the Martin Luther King Jr. "I Have a Dream" World Peace Rose Garden, all fragments of experiences during the last few months flash out clearly.
I am given a surprise almost every day by my high school students in Chinese classes. "We can make it!" "Hi, guys! Let's have a try!" Just after some simple instructions, they are already engaged in the team work independently! "Wang Laoshi, can I have the next challenge?" This is the time when I can always see confidence on their face. I am so proud of being awarded with "Oh, my God! It is so fun to learn Chinese!"
My outreach with the kindergartners and first graders is the most amazing part of my teaching career. They are always having so many questions! "Ms. Wang, how do you say this in Chinese?" "Can I count more numbers in Chinese today after class?" I am extremely happy every time I am surrounded by their sweet hug and smile.
Since the first hug and kiss on the cheek from a nice lady who welcomed me to America the first day at Seattle Airport, I have been gradually accustomed to the friendliness and kindness from my colleagues, my neighbors and people in the community. "Do you need a ride?" "Are you sure?" I am always moved by the care from the passing drivers. "Haiyan, you come with us to the party!" It is fun to keep close to my friends and exchange our ideas in our free time.
Almost all the people around me are quite satisfied with the public school education, which impresses me most with the opportunities and possibility it offers to almost all the children, regardless of their races or families. I will never forget the pride the Ethiopian-American shuttle driver took in his three girls' being admitted to college with scholarship. "I came here 30 years ago and I am still struggling with my English. But my girls are really lucky to go to the best schools in the neighborhood." "This is the reason why my wife and I are working so hard."
What a unique country where people with diverse cultures and traditions gather together like a large family, learning and sharing the merits from each other; where people are concerned about both individual needs and community harmony; where there are always chances to achieve success; where anybody can have a dream!
On the red hills of Georgia, I see people working hard every day and I hear people are singing happily for their dreams. May all our dreams come true!