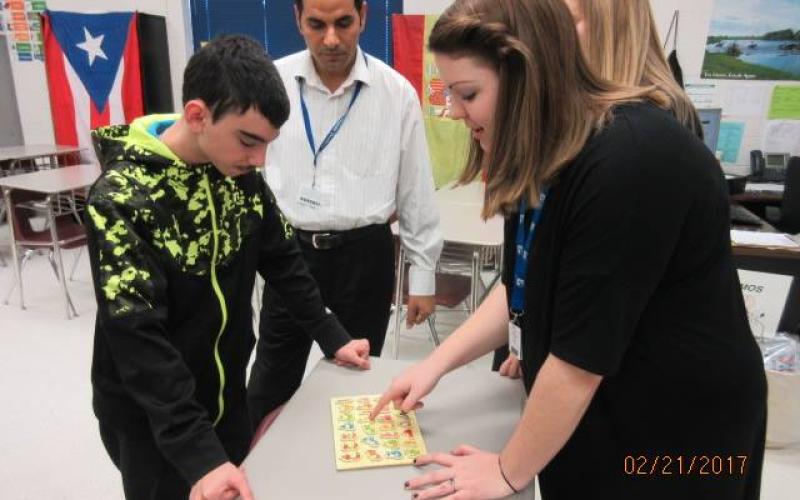 Middle and high school students enrolled in Arabic with TCLP exchange teacher Hassan Elghobaisy discuss their lessons learned from the past year.
When I first heard about the Arabic class, I wasn't too interested to tell you the truth. But I heard that one of my friends was signing up for the class and ended up signing up as well. However, after the first day of class I was intrigued by the new language and after the second I was excited to learn more. Most people might shy away from having to learn an entire new alphabet, but I love the idea of writing in a completely different way and found it absolutely captivating as this was the first time in a while that I had felt like I was learning a lot. The ironic part of all this is, is that even though I originally took the class to have an extra class with a friend...that friend never ended up joining me. But I still ended up enjoying this class more than any other language class I've ever taken.
I moved to Savannah, Georgia over the summer, the summer prior to my senior year of high school. I'd known for three years that I wanted to study Arabic in college and translate for the United States Government, but I never thought that my high school would offer it! About a week into the school year, I heard on the announcements that Arabic was going to be offered, and to come to the Counselor's office to sign up. I went home and told my father, who knew of my dream to study Arabic, and the next day I signed up. I was unsure of my feelings about moving to Georgia, but the opportunity I was given to get a head start on my studies made me feel like I moved solely for this reason. I am loving Arabic, and this course has only extended my passion for the culture and language!
I decided most recently to become a bilingual doctor to help aid with the mass majority of people in need that do not speak English. I've taken Spanish since kindergarten but decided to further my studies of language with taking Arabic as a class. In this class we have learned basic dialogue, alphabet, numbers, jobs, colors, body part, and much more. With the growing population of Arabic speakers, I'm hoping to help and care for these patients as I would an English or Spanish speaker. I've learned plentiful of the culture, history, and language of the part of the world that I have never learned so in depth of. My class has also been brought joy with being able to teach our own culture and country. I've been able to see how we do the same things yet so different in both of our countries. This program has let me learn of the different Middle Eastern cultures that I have been sadly not taught and I say sadly because it is such a beautiful culture. I'm hoping that with this program we are able to join together in this world and finally see each other as brothers and sisters not conflicting countries.
As a senior in High School, I had a lot of free spaces for elective classes at the start of the school year. One of these classes was kind of boring to me, and I heard about Arabic as a new class, so I went to the main office and signed up. Little did I know what a change this would make in my 12th grade school year.
Mr. Hassan is one of the greatest teachers I've ever had. There are around 10 people in our Arabic class, so the teaching is focused and personal every day. He is engaged and enthusiastic in his instruction style and methods, often employing fun games or interesting stories amid our lessons. So many of my teachers are dull or apathetic to the subjects they are supposed to be teaching us. Mr. Hassan has a true desire to teach us Arabic, and it shows. Never before have I wanted to succeed in a class just out of fear of disappointing the teacher. Don't mistake this for a bad fear; I want to do better because I know Mr. Hassan wants me to do better.
I'm going to advise my 9th grade brother and 5th grade sister to take this class when they can, as well as my friends in the lower grades. Ever since moving to Savannah I've been depressed at the state of education in this city, but Arabic class is a shining lighthouse in a sea of disillusionment. That's all I have to say, and I hope you take my words to heart.
Arabic class is such a fun class. We are very lucky there are only 8 Arabic teachers in America and we get one of them. We play lot of very useful games and take lots and lots of notes. We have learned about Arabic culture and our teachers' family. It's only been a few months and I can carry on a small conversation and name everything you are either eating or wearing.