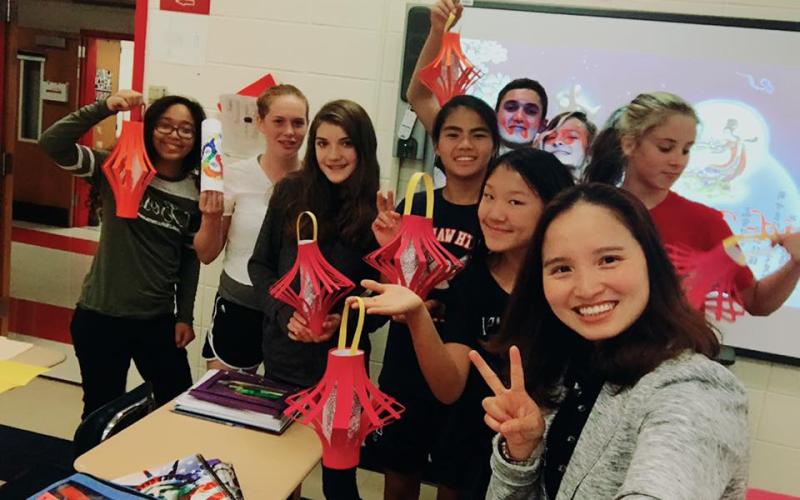 Next CLP Deadline November 30, 2018!
Program alumni, current exchange teachers, mentor teachers, administrative representatives, and U.S. schools and districts are eligible and encouraged to apply for grants to fund Critical Language Projects (CLPs). These projects may range from $500 to $3,000 and are designed to complement the TCLP experience by contributing to the enhancement of critical language programs in U.S. schools and furthering the teaching of English, Arabic, or Chinese as a Foreign Language in the home countries of the international alumni.
To apply for a CLP grant, submit a completed application via https://ais.americancouncils.org/tclpgrants. Please contact tclp@americancouncils.org with any questions. The next round of applications is due November 30, 2018.
For some inspiration, here are some of Critical Language Projects from the last grant cycle:
Sean Fredericks, John W. Lavelle Preparatory Charter School, New York (2016-2018)
United Nations Visit
To mark the 70th birthday of the United Nations Universal Declaration of Human Rights Mentor Teacher Sean Fredericks organized field trip for his students to visit the United Nations building in Manhattan to learn about its history and about its role in the world today. Students in the Arabic classes at Lavelle Prep observed a private briefing with a representative from the UN who spoke to them about the history of the United Nations, and Middle East Policy. Following the trip, the students shared their experiences with the rest of their school and community at the annual Lavelle International Festival. Read more here: http://tclprogram.org/content/critical-language-project/united-nations-…
Ezzat Hassan, Mentor High School, Ohio (2015-2016)
Creating a Positive Learning Environment for Language Classes through School Partnerships
Ezzat Hassan was awarded a CLP grant to organize a joint-project with his host school and a field trip with his home school. Ezzat trained his students in Egypt on how to use modern equipment to download and upload videos from YouTube and other sites in order to create a positive learning environment. Then his Egyptian students submitted question for a teacher at Mentor High School and she answered them during scheduled presentations. This task provided Ezzat's students the opportunity to hear authentic English and learn about interesting topics. The Egyptian students also participated in a field trip to Cairo. Activities leading up the trip focused on developing skills in reading, listening, speaking and writing in English. During the field trip students visited historical places in Cairo and shared their ideas by taking photographs, making videos and writing paragraphs in English to describe their experiences. They then made videos in Arabic and shared them with Mentor High School students who learn Arabic. Read more here: http://tclprogram.org/content/critical-language-project/creating-positi…
Zhang Wenjie, North Warren Regional School District, New Jersey (2017-2018)
FANtasy
As part of the North Warren Multi-cultural Fair on May 30th, 2018, students enrolled in Mandarin 1 classes, North Warren Chinese Club members, and any other North Warren Regional students who are interested in Chinese culture had the opportunity to be involved in the "FANtasy" project. Students were immersed in Chinese language and culture by performing a traditional Chinese fan dance, singing a traditional Chinese folk song "Jasmine", and participating in creating Chinese hand-made paper fans. Students also made a virtual fan through a cell-phone application, practiced Chinese calligraphy, and made poster boards to share what they learned with others who attended the Multi-cultural Fair. Read more here: http://tclprogram.org/content/critical-language-project/fantasy