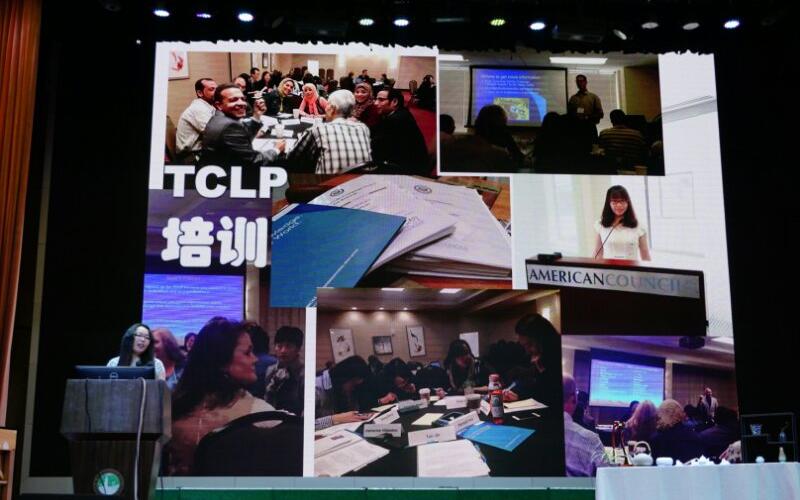 TCLP alumni across the world are making a difference by sharing best practices with their colleagues.
One of the most impactful goals of TCLP is to enable international teachers to expand their knowledge of U.S. teaching methodologies and share best practices and new methodologies with colleagues at their home schools. Alumni in China and Egypt have provided trainings and presentations throughout their countries supporting the professional development of their peers and demonstrating effective and engaging means of teaching students. Through peer trainings TCLP alumni are making a difference in their educational communities. Two TCLP alumnae in China in particular are directly reaching hundreds of teachers in their districts and cities and showcasing what they gained from their experiences in the U.S.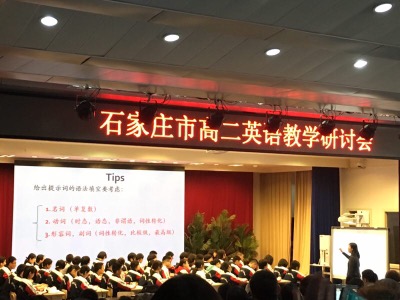 Jia Lili (2015-2016) has taken the lead in her educational community by sharing best practices and strategies in teaching that she learned during her exchange at Walnut Elementary School in Walnut, California. This year, she was invited by the Education and Research Institute in Shanxi Province to give a demo lesson on teaching grammar, an area that some English as a foreign language teachers struggle with teaching. Lili employed the backward design model that she learned through her TCLP experience, finding the "big idea" first. Her essential question for the lesson was "in what kind of situations can this grammatical feature be used?" With this in mind, she created different situations close to students' life and her goal was to incorporate how students can use grammar in daily life experiences. Then she designed the assessment and learning activities. By the end of the lesson, not only could the students learn the grammar rules but they could actually express themselves using the grammar. There were 120 teachers attending this lesson. The representative organizing this activity said it was an eye-opening lesson and teachers benefited a lot from it. Lili felt the new teaching method was widely accepted by the participants and it opened a new way to teach grammar.
Later in the year, Lili gave a demo lesson which was totally different from traditional revision lesson and it received positive feedback too. English group leaders in every school in Shijiazhuang city came to No.1 High School to learn how to do a revision lesson for 12th graders. She reorganized the textbook to be based on topics instead of units. 40 units were reclassified as 13 topics such as travelling, friendship, geography, etc. For her demo lesson, she showcased the topic of travelling. The students were engaged in the topic by working on a Mindmap and sharing their results. They learned as they shared. In this way, teachers did not have to specifically tell the students what they learned about the topic, instead the students were motivated to find out themselves through listening and learning from one another. She also utilized the activity that she learned in the U.S. when attending the StarTalk trainings in California by creating situations where the students can actively use the information they learned. The students were divided into groups and each group took on the role of a travel agency. Lili asked the groups to make a three-day travelling plan in Shijiazhuang city for her and she chose which travelling agency's plan she would follow. Students were eager to attract their "customer" by presenting their own travelling plans using the information they learned. The lesson was eagerly welcomed by students and teachers, because the revision lesson was not as teacher-centered as typical lessons and all students were involved. Lili is excited to continue sharing with teachers and students innovative and dynamic teaching strategies and lessons. She plans to continue organizing interactive activities for her students and telling more teachers about the impact of TCLP.
Chen Manman (2015-2016) is also taking initiative in being an education leader in her community after being hosted at Walsh Middle School in Massachusetts. She was invited to give a presentation on the topic of American Professional Development at the Education and Teaching Forum Nanjing Foreign Language School Xianlin Campus. The forum lasted for more than two hours to highlight the different types of education and teaching strategies in countries around the world. More than 500 teachers from primary, middle, high schools, as well as international high schools attended the forum. Manman also introduced TCLP to attendees of the forum. Her presentation was well received by the teachers in attendance and they were able to increase their knowledge of how schools and district in the United States organize and implement professional develop for their teachers. Through Manman's presentation the audience members were able to see the unique aspects of U.S. educational strategies and were introduced to different points of view in the field of teaching.
Through their hard work and dedication, TCLP alumni across the world are leading their communities as innovators in education. Are you a TCLP alumnus and have recently shared best practices in teaching through a workshop, training or forum? Reach out to TCLP staff via email and let us know!