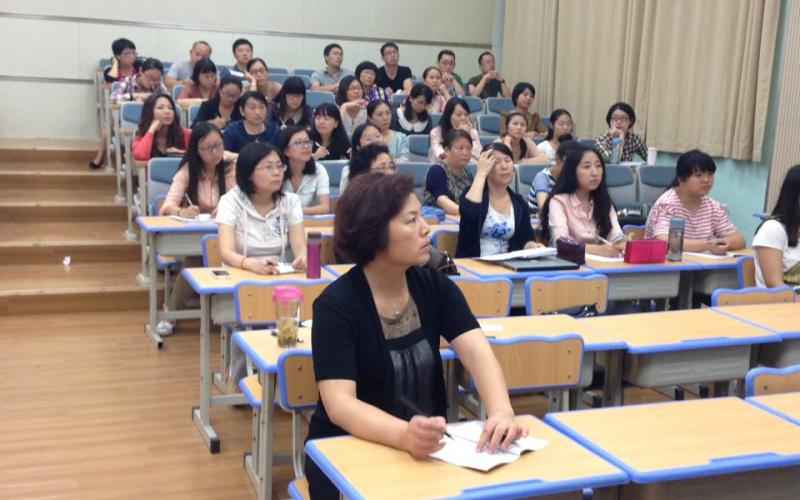 TCLP alumni strengthen language instruction at home and abroad through Critical Language Projects
The TCLP experience does not end after participants return to their home countries. Program alumni including, individual teachers and host schools, are encouraged to apply for funding for independent Critical Language Projects (CLP) that enhance the teaching of English, Arabic, or Chinese in their home countries.
Chinese New Year Festival: Community Celebration of Chinese Language and Culture
Exchange teacher Min Haiwei and principal Molly Stewart of Westside Elementary School in Maryland worked together to organize a Chinese New Year Celebration on February 10, 2015 to increase understanding of Chinese culture in their community. The all-day event featured traditional crafts, food, and performances from Chinese students, the Wong People from Washington, D.C., and performers from Shanxi Province. An estimated 600 people attended the event, which was featured on China's CCTV news program.
"Our project was hugely successful in raising awareness and appreciation of the Chinese culture" said Mr. Haiwei. "The project allowed our students and students from other schools to experience not only Chinese culture but also the language."
Arabic Teacher Visitation and Cultural Enrichment
This November, Southern Lehigh School District in Pennsylvania will welcome the return of Hanan Gawdat, who taught Arabic at the school as a TCLP exchange teacher during the 2013-2014 academic year. Ms. Gawdat maintained strong ties with her host school and continues to teach Southern Lehigh students while in Egypt via the school's distance-learning program. During her month-long visit, Ms. Gawdat will have the opportunity to teach in person again to help renew enthusiasm for the Arabic program and visit other classes at various grade levels to deliver cultural presentations.
District Superintendent, Dr. Leah Christman, is working with the school community to encourage teachers to take advantage of Ms. Gawdat's visit to bring a global perspective to their classes. "Students in our middle and high schools will benefit from visits to their classes from our visiting teacher when she is not teaching Arabic" said Dr. Christman. "These will be more targeted content such as current events related to our Social Studies curriculum, or cultural information related to art, music, or literature classes."
TESL Professional Development in China
Chen Jinyun, 2013 TCLP alumnus, received a grant to organize a TESL professional development program for teachers from her home school in Nanjing, China and the surrounding region.
"This project is an extension of my exchange experience" said Ms. Chen. "I learned a lot of new teaching methods and ideas from TCLP program and my host school, Dracut High School in America, so I'm determined to share these new teaching ideas, new curriculum and counseling and guidance system and assessment system to my colleagues in China."
The ongoing project intends to build upon Ms. Chen's experience in the U.S. by encouraging teachers to develop curricula and lessons plans based on differentiated instruction and student-centered teaching. Teachers are afforded various opportunities for professional development, including regional and national conferences, faculty visits to surrounding schools, teacher training courses, and video conferences with Ms. Chen's host school , Dracut High School, in Massachusetts.