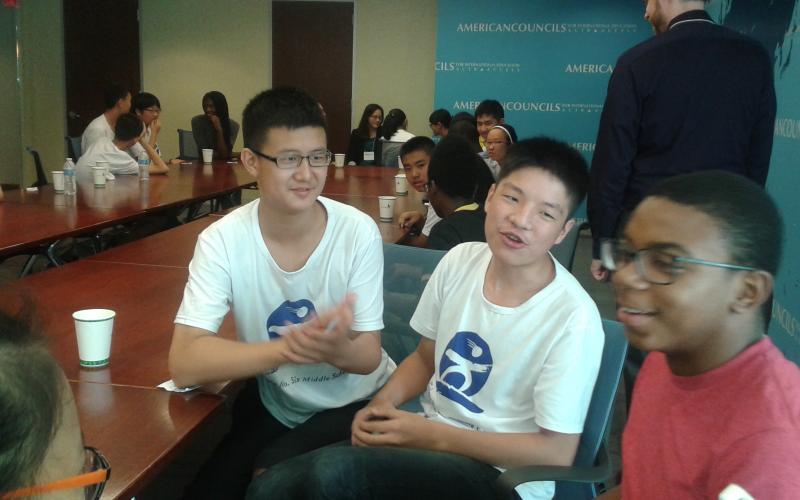 This August, American Councils was pleased to give an in-person welcome to a visiting Chinese delegation of students led by TCLP alumna Li Qiong (2011-2012).
This August, American Councils was pleased to give an in-person welcome to a visiting Chinese delegation of students led by TCLP alumna Li Qiong (2011-2012). The group from No. 6 Middle School in Yichang, China, was in the United States to visit their sister-school in Arizona. While passing through Washington, DC, American Councils and the DC Center for Global Education and Leadership arranged a visit with local students in which they taught each other some Chinese and American slang phrases and expressed support for the mutual understanding that has come about through the ongoing relationship between the two schools.
After departing from Washington, the group continued on to Sonoran Trails Middle School in Cave Creek, Arizona, as part of a sister-school relationship created with the support of TCLP. The sister school partnership emerged from a 2012 Critical Languages Project grant Li Qiong was awarded through TCLP, in which she accompanied Sonoran Trails principal Bill Dolezal to China as a first-time visitor. Ms. Li developed an itinerary that allowed Principal Dolezal to sign sister school documents with the principal at her home school, creating a framework for future collaboration. TCLP staff plan to host a virtual alumni conference on February 4-5, 2015 with the theme of empowering alumni to create sister school relationships such as the one between Sonoran Trails and No. 6 Middle School (an announcement with more details will be posted to the TCLP website).
Sonoran Trails Middle School was one of the first public schools in Arizona to offer daily language classes required by all students. During the 2011-2012 school year, they enrolled more than 300 seventh and eighth grade students in daily classes with Li Qiong and another locally hired Chinese teacher. Within a year, Cave Creek school district had planned out a streamlined sequence up to the university level. The school hosted a second TCLP teacher, Liu Xi, in 2012, by which time Mandarin had spread to a district high school, where they would like to create an Advanced Placement class for Mandarin Chinese. The district has also partnered with Arizona State University's Confucius Institute, where students can enter the Flagship Program and graduate from university fully proficient in the language.
On their recent trip, the Chinese middle school students spent several days in Arizona visiting the Grand Canyon, seeing a rodeo, and shadowing their sister school peers. Chinese students noted many differences between student life in the two countries. According to Li Qiong, who teaches at No. 6 Middle School and was hosted at Sonoran Trails during her one-year exchange program in the U.S., her students "used to think U.S. kids had a very relaxing life. But they found out Cave Creek kids have to get up at 6:00 am and wait for the school bus at 7:00, when lots of Chinese kids are just getting up." Li's students also joined their Arizona peers for activities after the school day, even helping to feed and groom horses. Ms. Li was accompanied by her Chinese principal and a Chinese Ministry of Education administrator, who met with Cave Creek educators to exchange best practices in professional development, classroom management, curriculum development, and online learning. The two schools started reciprocal student exchanges this summer with a group of Sonoran Trails students who made the trip from Cave Creek, Arizona, to the No. 6 Middle School in Yichang, a town located on the Yangtze River and home of the Three Gorges Dam.