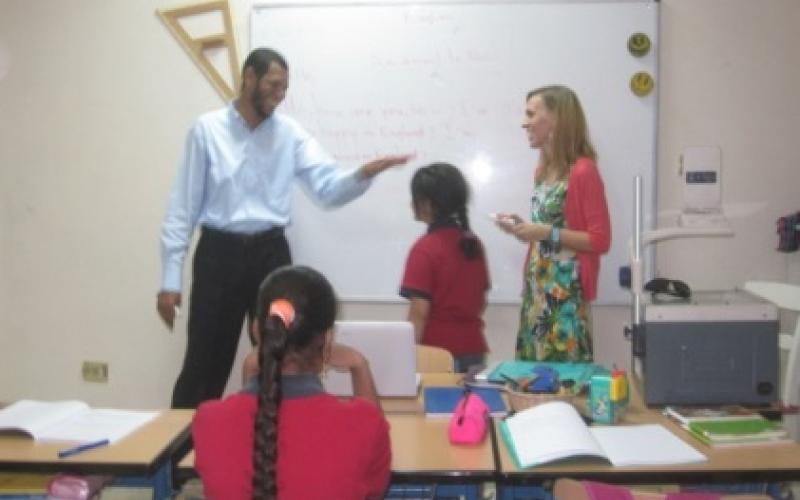 How TCLP Alumni, Mohamed Hassan, has brought US teaching styles back to Egypt
.
During the 2011-2012 academic year, the Teachers of Critical Languages Program (TCLP) sent Mohamed Hassan, an English Teacher from Qena, Egypt, to teach Arabic as a Foreign Language at Bell High School in Bell, California. Upon returning home to Egypt, Mr. Hassan initiated several projects in his hometown to teach English to young students and adults, as well as improve student-centered teaching methods.
In partnership with a teacher from the U.K., he designed a course to teach English as a Foreign Language to students in his community. "I managed to apply everything I learned in the U.S. to help these kids to improve their language and at the same time know about other cultures and to be in touch with native speakers," described Mr. Hassan. The course started with a small group of 20 students, but as word spread within the community, they soon discovered that they had a waiting list of more than 50 students who wanted to enroll in the program. Motivated by this initial success, Mr. Hassan is now designing a course to provide training for English teachers within his district to teach them about different student-centered methodologies and ways of incorporating cultural components into the language lessons. He has already secured the support of his district director for providing the course to teachers in the next academic year.
While designing new courses in Egypt, Mr. Hassan has also maintained contact with his host school in the U.S., and has partnered with one of the English teachers at Bell High School to establish conversation and dialogue opportunities between students in Egypt and the U.S. The Bell students regularly exchange emails and post cards with his students in Egypt. To advance this cross-continental exchange, Mr. Hassan applied to the Global Nomads Group's Civic Engagement Program, which connects students and educators from the U.S. and Egypt through a year-long joint curriculum in which students engage in intercultural dialogue and develop critical thinking and leadership skills that will prepare them to interact with individuals around the world in the 21st century.
Mr. Hassan has also been invited to co-teach an EFL class in the International German School - Luxor and organize extra-curricular cultural activities for elementary and middle school students. His EFL teaching skills have also been expanded as he designed and taught an English course for irrigation engineers in the Esna Training Center for Irrigation Engineers, part of the Ministry of Irrigation and Water Resources. This innovative adult course was entirely built on student-centered methodology, and Mr. Hassan credited his teaching skills for this to his experience on TCLP: "I would like to take this opportunity of thanking TCLP that gave us the experiences we needed to be qualified for all these kinds of success and progress." says Mr. Hassan. In recognition of his great efforts toward education, he was chosen to receive an award from the Public Affairs Office of the U.S. Embassy, Cairo on July 15, 2014.