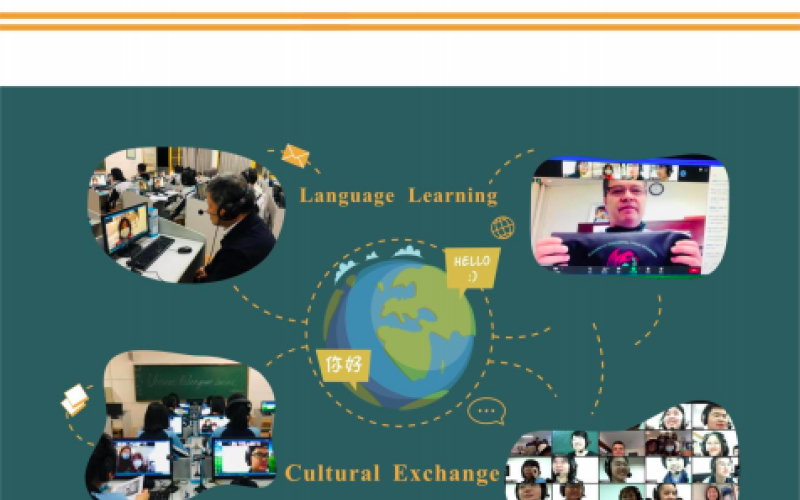 Cover of Ms. Wang's virtual exchange portfolio titled "Chinese-American Virtual Bilingual Lessons"
TCLP exchange alumna Wang Ling, hosted at Chariho Regional High School in Wood River Junction, RI in 2018-2019, established a sister school partnership between Chariho and her home school, No.1 High School of Liuyang in Hunan, China in the summer of 2019 and is working continuously to expand the partnership. 
This year, with the support of a Critical Language Project (CLP) grant, Ms. Wang designed and led a virtual exchange in cooperation with her colleagues at both schools. Throughout the past year, 11 U.S. and 41 Chinese students participated in ten virtual bilingual classes on Zoom where they had the opportunity to practice both target languages: Mandarin and English. The lessons covered topics including family, school life, health and sports, food, festivals, customs, and more. 
At the conclusion of the project, Ms. Wang collaborated with colleagues to compile materials from the lessons into a volume titled "Chinese-American Virtual Bilingual Lessons." As the chief editor, Ms. Wang coordinated with Ms. Minli Lusher, the current Mandarin teacher at Chariho; Ms. Wang Jingfang, a fellow teacher at No.1 High School of Liuyang; Ms. Jiang Xiazhen, the head of English at No.1 High School of Liuyang; and 16 other colleagues who are members of a regional English workshop that Ms. Wang was appointed to deliver by the Liuyang Education Bureau. The goal of creating this volume is to provide other language teachers with materials that can be referenced and to launch similar virtual exchanges. Furthermore, the volume was awarded first place at the Excellent Workshop Accomplishment Prize in China. 
Ms. Wang's future plans include continuing the virtual lessons (a new group of teachers and students will meet starting on October 20, 2021), expanding "Chinese-American Virtual Bilingual Lessons" into a book series, formalizing a curriculum for high school students to improve intercultural competence, and launching similar exchanges at other local high schools.