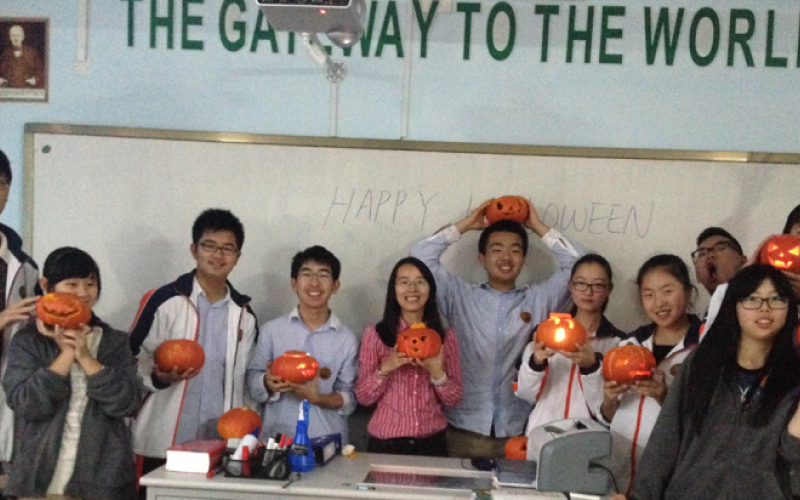 TCLP Alumni Teacher Chen Jinyun organizes Halloween activities to increase students' cultural awareness
.
Chen Jinyun, a TCLP Chinese exchange teacher in Dracut, Massachusetts from 2013 to 2014, brought American Halloween traditions into her home school, Nanjing Foreign Language School Xianlin Campus and her community in Nanjing, Jiangsu province, China. A Halloween party was held first at school. Almost 200 students and 20 teachers participated in the special Halloween mask party in school theatre on Thursday night, October 30. She also organized outreach pumpkin carving activities and another trick-and-treat activity with all children in her neighborhood community.
She believes that awareness of culture difference could be increased among Chinese students by developing American cultural activities such as a Halloween party. She said: "I started to launch this idea first at a staff meeting and then at students union' weekly meeting. To my surprise, all of them welcomed it so much. Then I made a plan with students and united all classes to take part in. All Sino-America program, Sino-Germany and Australian UFS Program students were responsible to build four creepy ghost houses with different themes; Australian VCE program Year 10 and Year 11 students made a Halloween horror movie house; Students union included all talented stars to give a performance show with music, dancing and singing at the theatre." Ms. Chen also explained that all students learned a lot by completing their assigned tasks such as buying Halloween costumes, doing research on line to explore Halloween traditions in western countries, decorating classrooms with Halloween symbol images like skeletons, spiders and bats and organizing a Halloween party. According to her observation, students not only benefited from involving in a cultural event to know more customs, but also learned from being exposed in a different cultural environment to be more open and more prepared to their overseas study.
Besides throwing a party at her home school, Ms. Chen also organized another two outreach activities in her neighborhood community. By distributing activity brochures and putting up posters on community bulletin board, she held a pumpkin carving party first at her home with children and their parents on October 29. After the party, she informed all community families to prepare candy and chocolates for kids who would come and knock their doors on October 31. She said:" 'Trick or Treat' suddenly became the most popular phrase on the night of Halloween in the neighborhood. All children dressed up with colorful costumes and masks and raced up and down cheerfully in each building knocking doors for candy. Nearly all parents thanked me for creating such a great opportunity for their children to go out and enjoy Halloween culture. They really hope I can organize more activities like this."
For Ms. Chen, the most successful part of the Halloween activities was helping students and community children understand western culture better, raising their awareness of cultural difference and developing their world perspectives. By organizing Halloween activities in fun way, she harvested thanks from her students and community parents. She said: "I will definitely organize more cultural activities in the future to widen my students' horizon of thinking, to prepare them to be a citizen in our earth village."