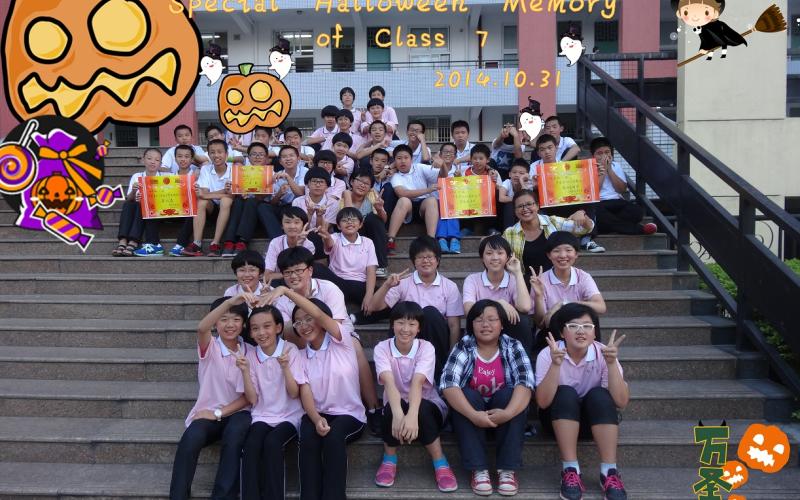 Chen Fangfang's class made a Chinese character "七" to celebrate what they have achieved in their school sports meet, on Halloween.
From 2013 to 2014, Fangfang Chen participated in the State Department's Teachers of Critical Languages Program. Mrs. Chen taught 485 elementary school students and devoted all of her spare time towards the spread of Chinese culture. After the exchange program, Mrs. Chen went back to her home school and started her busy school year.
In September, Mrs. Chen made a speech about The TCLP Program to more than 70 English teachers in her city, during her training for the Level-One teachers. She shared what she has learned through the whole academic year in America and introduced the ways to search for the teaching resources online. The teachers tried to download Pinterest app and used it to help design lessons. Teacherspayteachers.com was also introduced. Many teachers showed their great interest in this program.
Back to school, Mrs. Chen used new strategies to teach English, like playing Bingo game instead of dictation of words every single day. Mrs. Chen also showed the students the pictures of her wonderful Halloween last year. The most exciting thing these days for Mrs. Chen is the school sports meet. Her class did a good job in it. Especially, there was a one-minute performance during opening ceremony. Mrs. Chen focused on the Chinese culture elements and added the Kungfu and calligraphy into the show which was a great hit. Check the performance on this website: http://v.youku.com/v_show/id_XODE1ODg3NjAw.html.
Mrs. Chen thinks the experiences in America make her love her own country more and be more open to the differences in the world. Now, she is ready to make a difference!