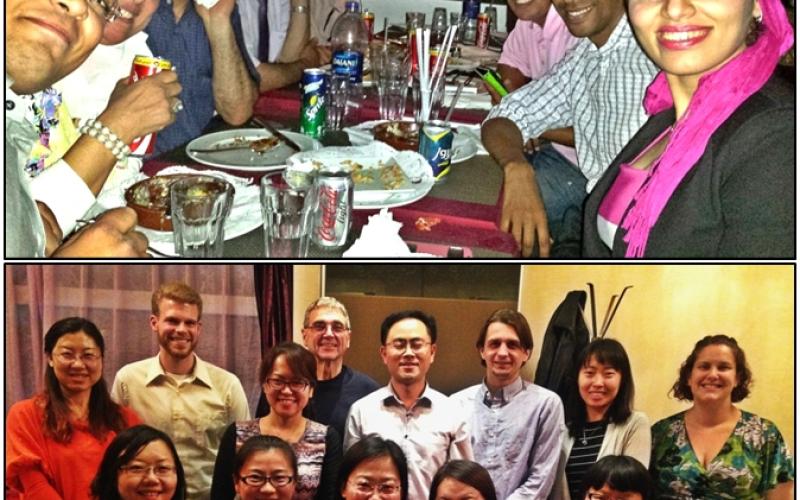 Alumni in Beijing and Cairo gathered to reconnect and reiminisce.
On March 23, Teachers of Critical Languages Program (TCLP) alumni living in Beijing, China gathered for a reunion dinner to share their recent life events and reminisce about their one-year program teaching Mandarin in the U.S.. Out of 10 alumni from the area, nine were in attendance, representing every alumni cohort since 2009. Teachers took turns sharing the professional opportunities that have opened for them since returning to China, with some receiving promotions, winning awards for their teaching, and presenting at nationally-recognized educational conferences. Several alumni reported that they were still in touch with their host schools and contacts in the U.S., with some tentative plans being made for student and faculty visits between the two countries.
Likewise, in Cairo, TCLP alumni's activities and achievements impressed the TCLP staff in attendance on June 19 when sixteen TCLP Egyptian alumni traveled from near and far to meet in Cairo for an alumni dinner. Representatives from all of the TCLP cohort years from 2008 were represented and all of the attendees arrived with success stories of how their lives and careers have grown since they return to Egypt following their TCLP year in the United States. The 2012-2013 teachers had the largest turnout, with more than 80% of their cohort present at the dinner. Although they have been back in Egypt for only one year, they have all made impressive strides in further developing their careers. For example:
-Abdelrahman Ibrahim and Hanan Gawdat are trainers in their governorates academy for the teacher training academies.
-Marwa Elgezery is her school's Arabic department head and is in charge of teaching quality assurance at her school.
-Yasser Abdelgalil received a promotion earlier this year and is currently waiting to hear back from a potential new job in the United Kingdom.
-Munir Gomaa was promoted to teaching students in older grades at his school.
-Khalil Nasr was nominated to become a principal and going through the selection process.
American Councils program staff at both dinners in Cairo and Beijing were excited to see the continued enthusiasm that TCLP alumni have for the program and hope to explore future alumni engagement activities. These meetings inspired a new initiative for TCLP alumni to display their leadership skills. To learn more, read about the new Alumni Cohort Leader nominations here.