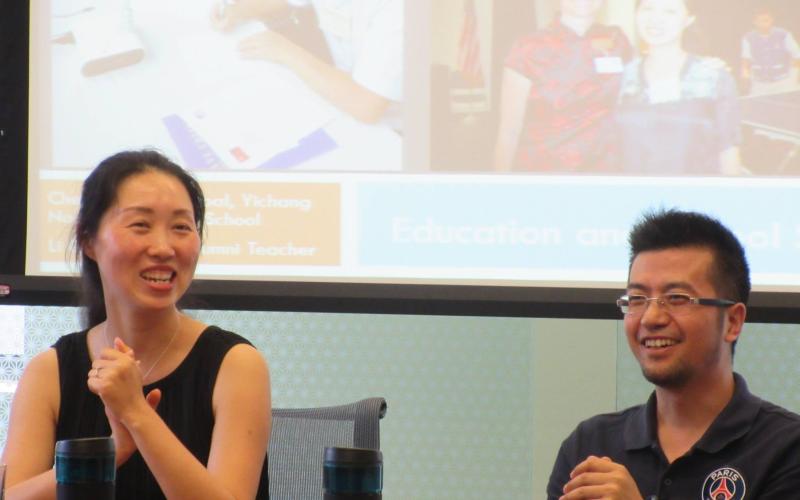 Former TCLP Teacher introduces changes and challenges in the Chinese educational system

American Councils welcomed TCLP alumna teacher Li Qiong and Chinese administrator Chen Pang to its offices this summer for a dynamic discussion on education and school systems in China. Li Qiong, who taught Mandarin at Sonoran Trails Middle School in Phoenix, Arizona during 2011-2012, visited Washington, DC while escorting a student exchange tour to the United States from China.
A leader at her school in China, Li Qiong has facilitated innovated international exchange opportunities for her students and has received two Critical Language Project (CLP) grants to develop a sister-school program between her home school and U.S. host school. Her most recent project, Sister Schools Rising, allowed Li Qiong to accompany twenty students on a class visit to Sonoran Trails Middle School in August 2015 to share Chinese language and culture and cement the two schools' collaborative partnership.
Chen Peng, principal of Yuchang No. 1 Senior High School in Hubei province, joined Li Qiong on the trip to Washington. As an administrator, Chen Peng works with international departments and exchange students at his school and previously visited Germany to learn more about German school systems.
During their visit, Li Qiong and Chen Pang discussed the changing face of education in China and highlighted the importance of international student and teacher exchange in an increasingly interconnected world. They also answered questions from American Councils staff, who represented various student and professional programs administered in the U.S. and overseas. Attendees were interested in hearing the recent changes to the Gaokao, the national entrance exam for universities in China, which will now offer students the opportunity to choose three elective tests in addition to math, English, and Chinese language.
Want to apply for funding to build a sister-school relationship or conduct an international exchange project? Apply to receive a grant of up to $3,000 toward a Critical Language Project (CLP). Applications are due November 30, 2016: http://tclprogram.org/about/critical-language-projects/.