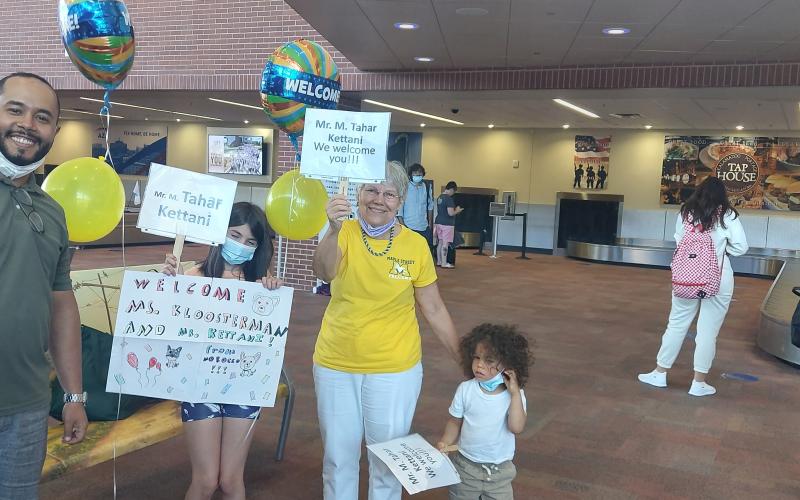 TCLP exchange teachers have been sightseeing and exploring their new U.S. host communities, started building relationships with colleagues and community members, and began teaching Arabic and Mandarin language and culture to their students.
This year's TCLP cohort consists of eight Mandarin teachers and seven Arabic teachers in twelve states, from Oregon to New York. The exchange teachers work with students from preschool up to 12th grade and teach between 12 and 264 students at their schools. Several teachers also regularly reach their entire school community through monthly newsletters, outreach, or presentations on the daily announcements.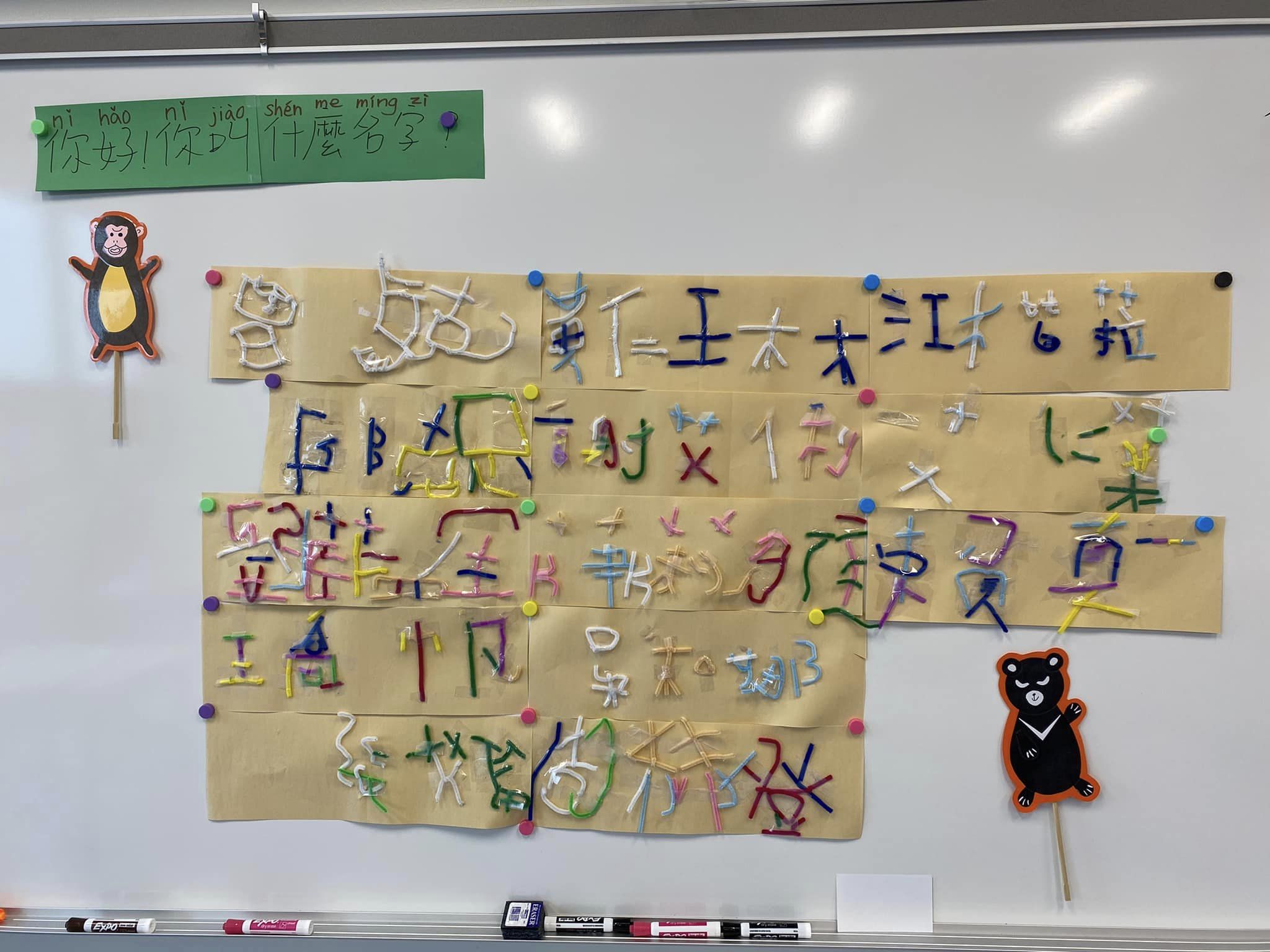 Above: A picture of the Lin Pin-Shiu pipe cleaner project presenting the students' Mandarin names in characters.
Students participate in various exciting classroom activities about the Arabic and Chinese languages and cultures with their TCLP teachers. Mandarin teacher Lin Pin-Shiu, hosted at Edward E. Sadlowski Elementary in Illinois, facilitated a hands-on lesson and craft using pipe cleaners to teach novice learners from sixth, third, and first grades how to compose their names in Mandarin characters. The activity focused on writing and reading their feelings about their new Mandarin name.
Arabic teacher Mona Ismail, hosted at Ashford School in Connecticut, had her students create a story box about one of the most famous Arab stories, "Ali Baba and The Forty Thieves."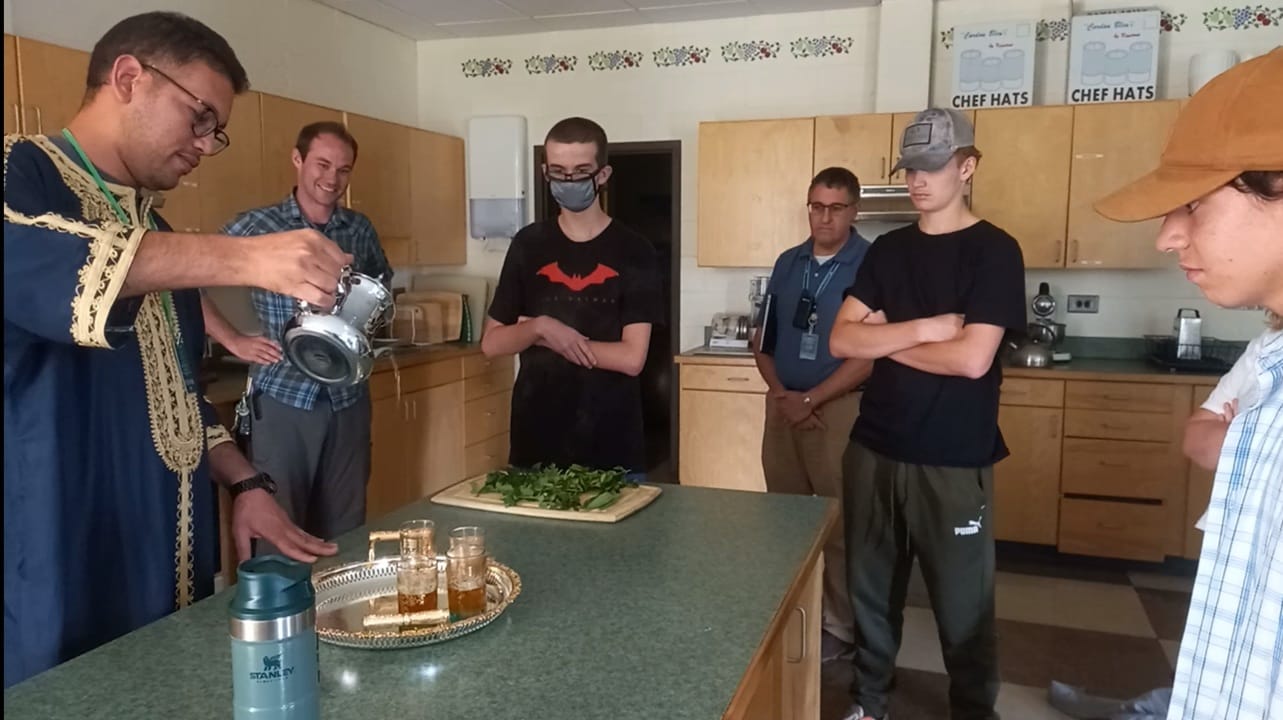 Above: Abdelkrim Hayab pouring homemade mint tea for community member
In addition to their regular class hours, the exchange teachers lead various outreach activities in their host schools and communities. For example, Arabic teacher Abdelkrim Hayab, hosted at Twinfield Union School in Vermont, introduced community members to Moroccan tea and Moroccan tea culture. Mr. Hayab used mint from the Twinfield school's garden to make a special mint tea for the attendees as well as a plain tea. He also included a slideshow to highlight Moroccan tea culture and traditional clothing. The students of Danville thanked Mr. Hayab for his lesson and tea by gifting him with a bottle of maple syrup that the students made themselves. Chang Jen-Yin of OB Gates Elementary in Virginia has taught students to express feelings, sing songs, and study math equations in Mandarin.
For the Mid-Autumn Festival, five exchange teachers from Taiwan, hosted at various schools across the U.S., celebrated the Mid-Autumn Festival with students and community members. Chang Jen-Yin of OB Gates Elementary in Virginia, Cheng Hsian-Lan of Bellows Free Academy Fairfax in Vermont, Lin Wan-Lin of Butler Academy in South Carolina, Lin Pin-Shiu of Edward E. Sadlowski Elementary in Illinois, and Huang Hsinyi of East Voyager Academy of Charlotte in North Carolina prepared lessons and outreach activities for the Mid-Autumn festival through crafts, songs, and dance. Many students, school, and community members could learn about the festival, celebrate each moon cake, and participate in various cultural activities with their new exchange teachers.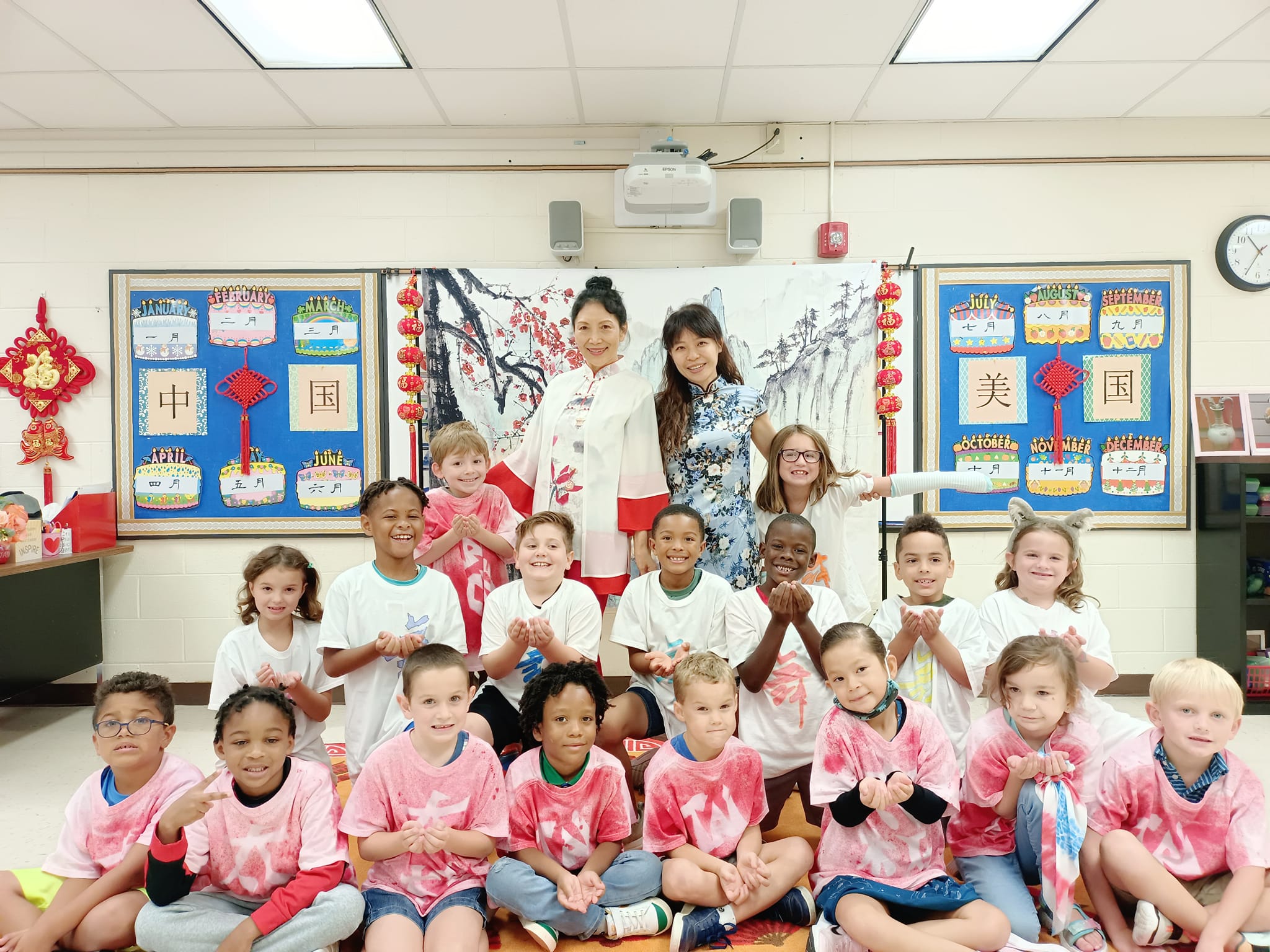 Above: Chang Jen-Yin celebrating the Mid-Autumn Festival with her mentor teacher and students.