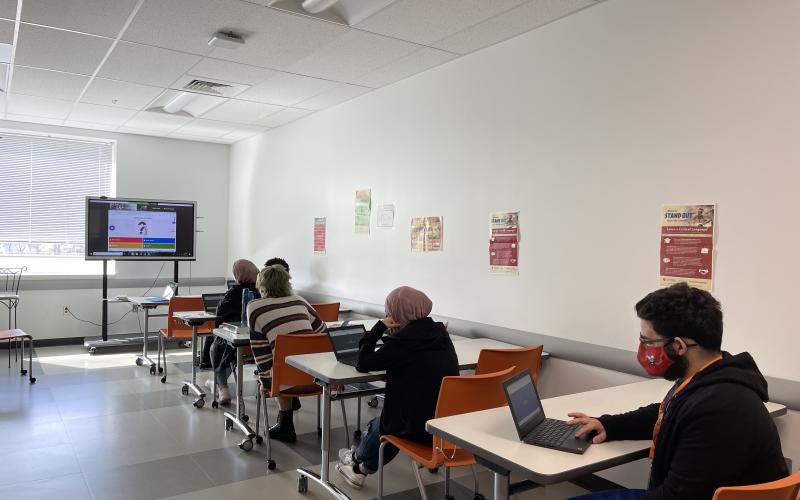 During the 2020-2021 year, TCLP exchange teachers impacted their educational communities in the U.S., China, Egypt, and Morocco.
2020-2022 Exchange Teacher Builds New Arabic Program at U.S. High School 
Starting in August 2020, Egyptian exchange teacher Yasser Beshay began building a new Arabic program at his U.S. host school, Frederick Douglass High School in Lexington, KY. Throughout the school year, Mr. Beshay taught 63 Arabic I and II students covering topics including greetings, personal introductions, family members, numbers, food, rooms of the house, furniture, and jobs. In the Spring semester, Mr. Beshay, implemented a hybrid teaching model by conducting in-person lessons with students at school and simultaneously working with remote students via live video.  
Mr. Beshay also hosted several virtual outreach events to engage students and the community. On November 21, 2020, Mr. Beshay collaborated with two 2019-2020 alumni, Nermeen Fathy (PSJA Memorial Early College High School, TX) and Manal Salem (Nicotra Early College Charter School, NY), to virtually celebrate International Education Week (IEW) with six Egyptian and U.S. students. During the event, both the teachers and students discussed the value of cultural exchange and international education.  
Mr. Beshay has also participated in a number of professional development opportunities offered through his host school that focused on language proficiency levels, classroom management, cultural awareness, curriculum development, instructional practices, total physical response (TPR) strategies, and online learning.
---
2018-2019 Exchange Teacher Alumna Builds Sister School Partnership and Leads English Workshop Series for Local Teachers  
On October 23, 2020, exchange teacher alumna Wang Ling (2018-2019) led an inaugural virtual class with 22 students at her home school in China, Liuyang No.1 High School, and 11 Chinese III students at Chariho Regional High School. Ms. Wang, who established the sister school relationship in 2019, collaborated with a colleague at her home school and with the current Chinese instructor at Chariho to organize the virtual class. During the hour-long class, the students met their peers virtually and practiced both target languages: Chinese and English. Ms. Wang continued to hold regular virtual classes and on December 3, she brought her home school principal and former host school principal and mentor teacher together to discuss ways they can continue their collaboration. 
Additionally, in January 2021, Ms. Wang was chosen by the Liuyang Education Bureau to design and implement a three-year professional development workshop series titled "Wang Ling's English Workshop" in her honor. The workshop series will span from 2021 to 2024 and will be attended by 45-60 English teachers selected from 15 high schools in Liuyang. Through the workshop, Ms. Wang plans to introduce student-centered teaching methods and lead hands-on activities to support her peers' professional development. The long-term goal of the workshop is to improve the overall quality of English teaching in her home city.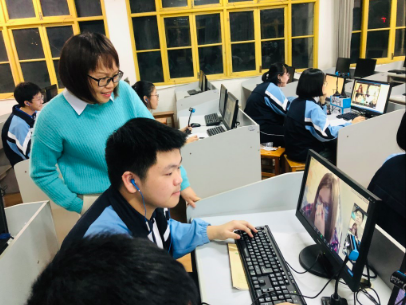 ---
2018-2019 Exchange Teacher Alumnus Collaborates with International Colleagues 
This year, exchange teacher alumnus Abdelrahman Dawoud (2018-2019) collaborated with colleagues in both Egypt and the U.S. On August 24-25, 2020, Mr. Dawoud led a two-day teacher training workshop for local middle school English teachers in his home country. On the first day, Mr. Dawoud led sessions on student-centered teaching methods where participants had the opportunity to practice activities such as jigsaw, running dictation, Simon Says, and more. On the second day, Mr. Dawoud presented on resources and professional development opportunities for English teachers including TCLP. 
Additionally, Mr. Dawoud partnered with Laura Kobel, a teacher at Plymouth Comprehensive High School, WI who worked with two TCLP exchange teachers in 2010-2011 and 2011-2012, to initiate a virtual exchange on January 24, 2021. During this first virtual meeting on the occasion of International Education Day, Mr. Dawoud, 20 of his Egyptian students, and Ms. Kobel discussed exchange opportunities, human rights, and stereotypes in Egypt and the U.S. Both Mr. Dawoud and Ms. Kobel registered for Virtual TCLP Alumni Matching and were paired by TCLP staff in the Fall of 2020.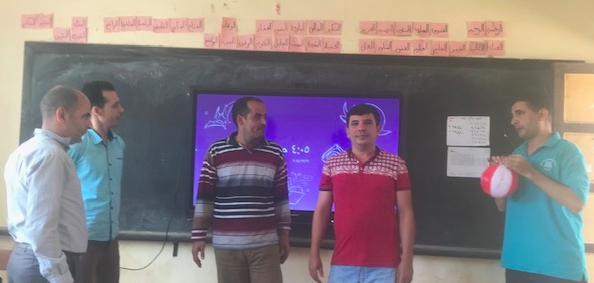 ---
TCLP Exchange Alumni Act As Leaders in Their Educational Communities 
In October 2020, TCLP alumni Liang Min and Huang Can (both 2019-2020) led demo English classes in their home country. Ms. Liang represented her home school at an annual teaching conference in Sichuan Province that was attended by teachers and administrators from many schools. Ms. Liang's demo lesson incorporated project-based learning (PBL) activities focused on two cultural festivals: Carnival and the Spring Festival. Ms. Liang also delivered a presentation on PBL at the conference. Huang Can conducted an English demo class using student-centered methods at Mingning Middle School in Ningxia Province in northern China. Following the demo, Ms. Huang discussed lesson planning strategies with Mingning Middle School English teachers and the supervisor of the local education bureau. 
In November 2020, Wang Xiaopei, (2012-2013), was selected by the Henan Teaching and Research Office to participate in a national teaching competition for high school English teachers where she presented a reading lesson that included multiple student-centered methods such as brainstorming, jigsaw reading, and think-pair-share. During the lesson, her students showed a deep level of engagement with the material and at the end of the competition Xiaopei was awarded the first-place prize. 
Early in 2021, Jia Lili (2015-2016) recorded a 40-minute video lesson about a new section in her students' upcoming university entrance exam: continuation writing. The recorded lesson outlined multiple reading, writing, and study strategies to help students prepare for the exam and was recommended to over 500,000 senior students across Shijiazhuang City and surrounding suburban areas. The lesson was well-received by students and she received positive feedback from peer teachers.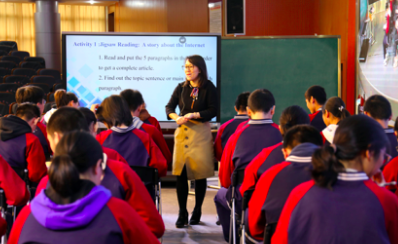 ---
TCLP Alumnus Presents at English Teaching Seminar in Taiyuan, China
In April 2021, TCLP alumnus Bai Jinguo, hosted at Willmar Senior High School, MN in 2009-2010, presented on project-based learning (PBL) at an English teaching seminar in Taiyuan, China. Mr. Bai's lecture, titled "Seeking, Seeding and Seeing," was highly praised by local high school English teaching experts who were in attendance including fellow TCLP alumna Fan Caiping, who was hosted at Niskayuna High School, NY in 2011-2012. Ms. Fan attended the seminar as an expert English teacher representing her home city of Taiyuan.