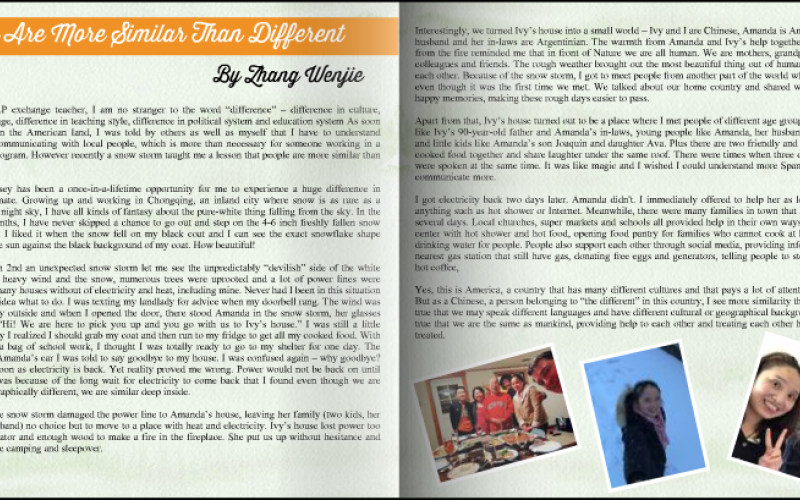 Zhang Wenjie was this year's winner as she captured the essence of her TCLP exchange experience
We Are More Similar than Different by Zhang Wenjie
Working as a TCLP exchange teacher, I am no stranger to the word "difference" – difference in culture, difference in language, difference in teaching style, difference in political system and education system… As soon as I set my foot on the American land, I was told by others as well as myself that I have to understand differences when communicating with local people, which is more than necessary for someone working in a culture exchange program. However recently a snow storm taught me a lesson that people are more similar than different.
Living in New Jersey has been a once-in-a-lifetime opportunity for me to experience a huge difference in geography and climate. Growing up and working in Chongqing, an inland city where snow is as rare as a shooting star in the night sky, I have all kinds of fantasy about the pure-white thing falling from the sky. In the past few winter months, I have never skipped a chance to go out and step on the 4-6 inch freshly fallen snow every time it came. I liked it when the snow fell on my black coat and I can see the exact snowflake shape clearly reflecting the sun against the black background of my coat. How beautiful!
However, on March 2nd an unexpected snow storm let me see the unpredictably "devilish" side of the white beauty. Due to the heavy wind and the snow, numerous trees were uprooted and a lot of power lines were damaged, making many houses without of electricity and heat, including mine. Never had I been in this situation before, so I had no idea what to do. I was texting my landlady for advice when my doorbell rang. The wind was still blowing heavily outside and when I opened the door, there stood Amanda in the snow storm, her glasses covered by snow. "Hi! We are here to pick you up and you go with us to Ivy's house." I was still a little confused but quickly I realized I should grab my coat and then run to my fridge to get all my cooked food. With a bag of food and a bag of school work, I thought I was totally ready to go to my shelter for one day. The moment I got into Amanda's car I was told to say goodbye to my house. I was confused again – why goodbye? I'll come back as soon as electricity is back. Yet reality proved me wrong. Power would not be back on until March 7th. Yet it was because of the long wait for electricity to come back that I found even though we are culturally and geographically different, we are similar deep inside.
It turned out that the snow storm damaged the power line to Amanda's house, leaving her family (two kids, her in-laws and her husband) no choice but to move to a place with heat and electricity. Ivy's house lost power too but she has a generator and enough wood to make a fire in the fireplace. She put us up without hesitance and joked that it was like camping and sleepover.
Interestingly, we turned Ivy's house into a small world – Ivy and I are Chinese, Amanda is American, Amanda's husband and her in-laws are Argentinian. The warmth from Amanda and Ivy's help together with the warmth from the fire reminded me that in front of Nature we are all human. We are mothers, grandparents, neighbors, colleagues and friends. The rough weather brought out the most beautiful thing out of human beings – helping each other. Because of the snow storm, I got to meet people from another part of the world who offered me help even though it was the first time we met. We talked about our home country and shared with each other our happy memories, making these rough days easier to pass.
Apart from that, Ivy's house turned out to be a place where I met people of different age groups – senior citizens like Ivy's 90-year-old father and Amanda's in-laws, young people like Amanda, her husband Marcos and me, and little kids like Amanda's son Joaquin and daughter Ava. Plus there are two friendly and cheerful dogs. We cooked food together and share laughter under the same roof. There were times when three different languages were spoken at the same time. It was like magic and I wished I could understand more Spanish so that we can communicate more.
I got electricity back two days later. Amanda didn't. I immediately offered to help her as long as she needed anything such as hot shower or Internet. Meanwhile, there were many families in town that had lost power for several days. Local churches, super markets and schools all provided help in their own ways – opening warm-center with hot shower and hot food, opening food pantry for families who cannot cook at home and offering drinking water for people. People also support each other through social media, providing information about the nearest gas station that still have gas, donating free eggs and generators, telling people to stop by for a cup of hot coffee, …
Yes, this is America, a country that has many different cultures and that pays a lot of attention to differences. But as a Chinese, a person belonging to "the different" in this country, I see more similarity than difference. It is true that we may speak different languages and have different cultural or geographical background. But it is also true that we are the same as mankind, providing help to each other and treating each other how we want to be treated.