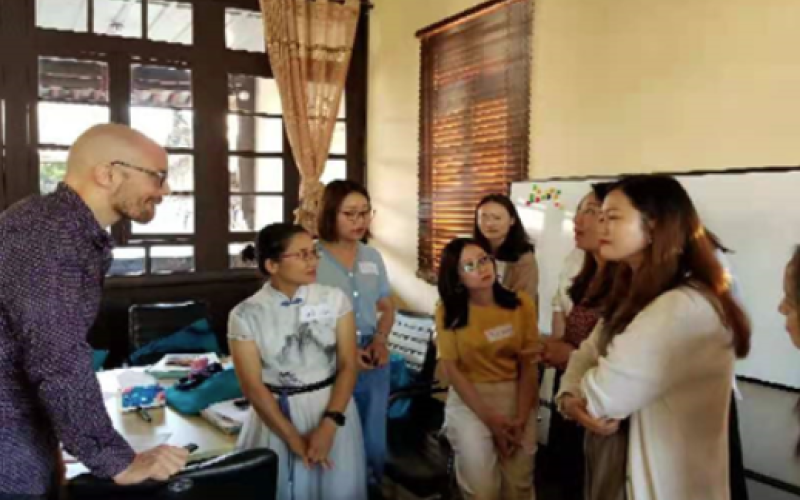 Icebreaker activity led by Kevin Sprague at the RELO Alumni Training event
TCLP alumni have made great strides in professional development this year. In February, Mohammed Etify of Egypt, who was hosted at Anne Chesnutt Middle School in Fayetteville, NC in 2018-2019, presented at the 25th annual NileTESOL Conference. During his presentation titled "Using Nearpod for Delivering an Engaging Lesson Online", Mr. Etify led a demo lesson on Nearpod, an online learning platform that offers collaborative activities and formative assessments including polls, collaborative boards, game-based quizzes, and more. Mr. Etify's presentation was attended by approximately 100 educators from all over the world.  
Alumnus Bai Jinguo of China, who was hosted at Willmar Senior High School in Willmar, MN in 2009-2010, also presented at the 2021 English Education China Assembly held in July in Hangzhou, China. Mr. Bai led a twenty-minute workshop at the conference. His workshop, entitled "Game on! Using The Monster Book to improve English language abilities", covered student motivation and using games to make English lessons more enjoyable. Mr. Bai also took this opportunity to introduce TCLP to the workshop attendees. 
Also in July, several TCLP alumni in China attended a RELO Alumni Training Event. Participants had the opportunity to hear from Scott Chiverton, the Director of the Regional English Language Office at the U.S. Embassy in Beijing; Brian Linden, founder of the Linden Center; and Kevin Sprague, a Lecturer of English for Academic Purposes at Duke-Kunshan University. Other activities included learning about best practices for English language teaching and principles of effective workshop design. 
Finally, alumna Yu Yifang of China, who was hosted at Brent Elementary School in Washington, DC in 2009-2010, began pursuing doctoral studies at the University of Pennsylvania this summer. She is studying educational leadership with a research interest in teacher retention at international schools in China. Ms. Yu commented, "TCLP was a life-changing experience for me. Everything I was able to achieve later in work, studies, and personal life can be traced back to TCLP... So, my thanks to you, the TCLP staff and the program, are beyond words."