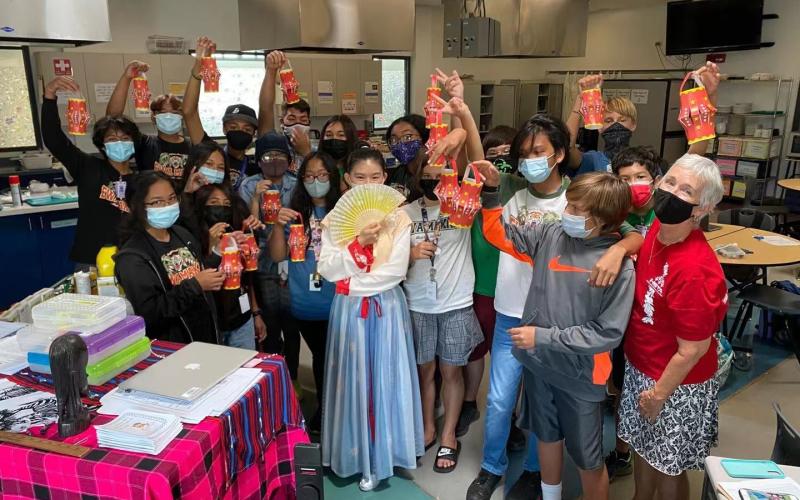 Ms. Sun Quanfang's students display their hand-made lanterns
In the first few weeks of the program, the 2021-2022 TCLP exchange teachers have enjoyed sightseeing and exploring their U.S. host communities, started building relationships with colleagues and community members, and began teaching Arabic and Mandarin language and culture to their students.  
This year's TCLP cohort consists of eleven Chinese teachers and five Arabic teachers placed in eleven states across the country from Connecticut all the way to Hawaii. (One participant unfortunately had to return home early for personal reasons.) The exchange teachers are working with students from preschool up through 12th grade and teach a total of between 30 and 460 students at their schools. Several of the teachers also have the opportunity to regularly reach their entire school community through monthly newsletters or presentations on the daily announcements. 
Students participate in a variety of exciting classroom activities about the Arabic and Chinese languages and cultures with their TCLP teachers. Chinese teacher Ms. Sun Quanfang, hosted at Ewa Makai Middle School in Hawaii, taught her students about the recent Mid-Autumn Festival through a variety of classroom activities, including crafting lanterns and making mooncakes. Ms. Amina Chlouchi of Morocco, hosted at Merrick Academy Charter School in New York, introduced her students to Moroccan culture through a demonstration of a traditional tea set. 
In addition to their regular class hours, the exchange teachers also lead a variety of outreach activities in their host schools and communities. For example, Ms. Azza Ghazaly of Egypt, hosted at Seventy First High School in North Carolina, has conducted virtual outreach sessions about the Arabic language and culture at a local middle school, and Ms. Zhang Xiaolin of China, hosted at Wiggs Middle School in Texas, started an after-school Chinese Club. 
Building virtual connections between their U.S. students and their home countries is a popular form of outreach for TCLP teachers and their students both in the U.S and their home countries. Ms. Sarah Elgammal of Egypt, hosted at the Ashford School in Connecticut, recently invited a student from her home school for a language and culture exchange session via Zoom. For the Mid-Autumn Festival, Ms. Chen Xiaoyun of China, hosted at Tonopah Valley High School in Arizona, helped her students to record a video message sending holiday greetings to her home school principal. Ms. Wang Rennyu of China, hosted at EastSide Charter School in Delaware, is also planning a virtual exchange with her host school where students will speak English for half the session and Chinese for the other half. These exchanges open students up to new connections and allow them to apply what they are learning without ever having to leave their classrooms.