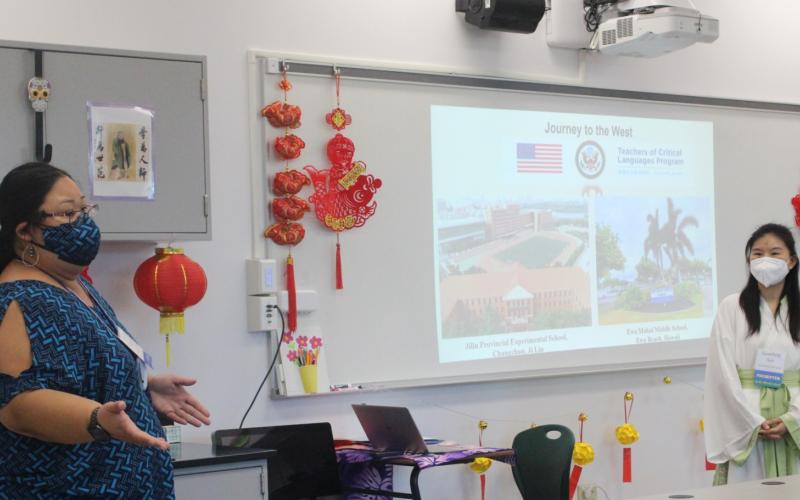 This year's TCLP exchange teachers achieved a wide variety of accomplishments.
In January and March 2022, respectively, Teachers of Critical Languages Program (TCLP) exchange teachers Azza Ghazaly, hosted at Seventy-First High School in North Carolina, and Sarah Elgammal, hosted at the Ashford School in Connecticut, received approvals for a grant from Qatar Foundation International (QFI). These grants covered a series of virtual NaTakallam conversation partner sessions for Ms. Ghazaly's and Ms. Elgammal's students. NaTakallam is a social enterprise startup that provides income opportunities to refugees and displaced persons through opportunities in the language sector. These conversation partners allow students of Arabic to learn more about different dialects and cultures of the Arab world. Students in both classes participated in sessions with native Arabic speakers from countries such as Syria, Lebanon, Iraq, and Yemen. They discussed a variety of topics including culture, family, displacement and migration, and dreams for the future.
On January 14, 2022, Teachers of Critical Languages Program (TCLP) exchange teacher Wang Rennyu, hosted at EastSide Charter School in Delaware, presented a Chinese language lesson on Delaware television station DETV. Ms. Wang's lesson was part of the station's "HomeSchoolED", a virtual learning program for homeschooled students. During her segment, Ms. Wang introduced viewers to where Mandarin is spoken. She also taught them how to say "hello" in Chinese and how to count from one to ten. The counting lesson included the Chinese hand gestures that represent the numbers, as well as counting practice using different items such as triangles and oranges. Follow this link to watch Ms. Wang's segment, starting at 16:04 - DETV presents HomeSchoolED for January 14, 2022 – DETVCH 
On February 22, 2022, Teachers of Critical Languages Program (TCLP) host school Ewa Makai Middle School in Ewa Beach, Hawaii hosted the 2022 Hawaii Association of Middle Level Education (HAMLE) Conference. Over 200 teachers from around the state attended the event. During this conference, exchange teacher Sun Quanfang and her mentor teacher Leeann Manuel presented a breakout session entitled "Journey to the East and the West" (pictured above). They introduced TCLP to the attendees and discussed some of the language and culture activities Ms. Sun has conducted. They also invited three of Ms. Sun's students to share their feelings about learning Chinese and even teach the numbers in Chinese to attendees. Besides conducting her own breakout session, Ms. Sun also attended two other sessions on Interdisciplinary Project-Based Learning and Motivating Students.
On March 12, 2022 Teachers of Critical Languages Program (TCLP) exchange teacher Mohamed Salem Tiguit, hosted at Frederick Douglass High School in Kentucky, celebrated National Foreign Languages Week at his host school. He collaborated with his host school's Chinese teacher, Hu Yue, who organized a joint class for the occasion. Together, the two teachers taught about fifteen students from both classes about Arabic and Mandarin. Students had the opportunity to teach each other words and phrases in both languages and to play games and win prizes. Mr. Tiguit also gave presentations about the benefits of learning a foreign language and about Moroccan culture.