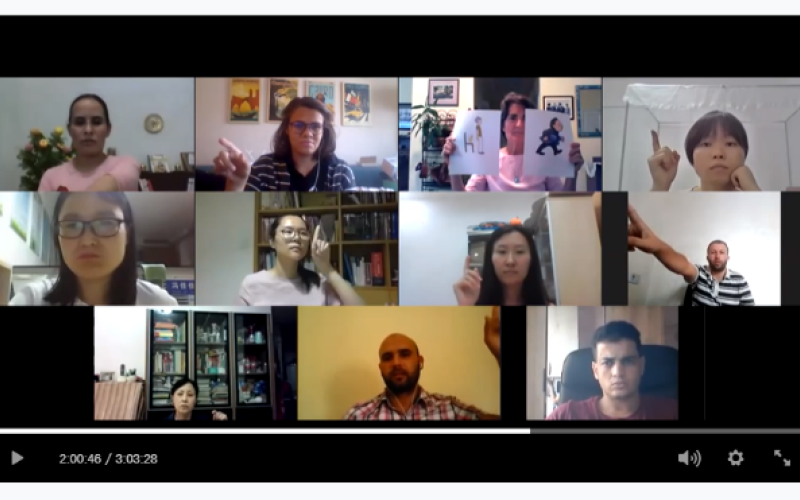 In July 2020, TCLP hosted its first Virtual Welcome Orientation for the 14th cohort of exchange teachers, combining content from the Pre-Departure Orientation (PDO) and Welcome Orientation into a dynamic month-long program.
Five teachers from China and four teachers from Morocco completed the virtual orientation program, all of whom received certificates recognizing their participation. TCLP's 14th cohort also includes 2019-20 alumnus teacher Yasser Beshay from Egypt.
This innovative approach featured Edpuzzle sessions developed by program staff as well as live virtual sessions presented by pedagogical experts, alumni, and program staff on Zoom, all designed to prepare the exchange teachers to effectively teach and motivate students in the U.S. The virtual orientation began with opening remarks on July 1, 2020.
The Edpuzzle sessions were prerecorded by staff and covered content from the PDO agenda as well as the Welcome Orientation's American English sessions. These modules incorporated knowledge checks as well as opportunities for the teachers to ask their own questions, which enabled staff to tailor live sessions to effectively address the teachers' needs and best prepare them for a year in the U.S.
Live roundtable sessions offered participants the opportunity to ask staff and alumni questions while presentations by pedagogical experts introduced teachers to best practices in language teaching and simultaneously demonstrating effective virtual teaching techniques. Topics included cooperative learning, assessment, total physical response, comprehensible input, differentiated instruction, lesson planning, the standards-based approach to instruction, and more. Through these presentations, which brought together both the Moroccan and Chinese teachers, the cohort bonded as a tight-knit group eager to contribute to each other's professional development despite being located halfway around the world from one another.
Participants also worked with experienced language teachers that functioned as pedagogical experts who modeled lessons and taught about the three communicative modes, scaffolding, and lesson planning to help prepare the exchange teachers to work with American students. Due to smaller cohort size, each exchange teacher had the opportunity to teach a 20-minute sample lesson with a partner or group and receive tailored feedback from the TCLP pedagogical experts. The Arabic teachers and program staff served as students for the Chinese teachers and vice versa, engaging all participants. The final session of the virtual orientation, Classroom Management 101, was held on July 30, 2020 and helped the participants explore effective techniques to manage online and in-person U.S. classrooms.