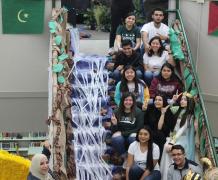 Most People in the valley do not know anything about the TCLP or the Arabic class.
I had a year long plan to showcase the program and the Arabic language and culture to everyone in the valley. Accordingly, I followed a plan that included many actions and events:
First, I created collaborative classes with other teachers to raise awareness for students at my school. So, I planned different outreaches:
1- An outreach with Cosmetology teacher in which I introduced the history of cosmetics in Egypt.