TCLP alumni continue to share best practices in education and grow professionally  
The TCLP experience does not end when participants return home. In fact, alumni are steadfast in their commitment to sharing best practices in education and providing professional development opportunities for the peers in China, Egypt, and Morocco. While teaching critical languages in the United States, TCLP teachers are learning new methodologies and adapting their teaching skills to effectively engage American students. Through their exchange, participants grow both professionally as teachers and personally as leaders. When they return home, they are enthusiastic and ready to share best practices with their peers and implement them into lessons for their students. Many alumni continue to participate in further professional development available to them through the U.S. Department of State in their home countries.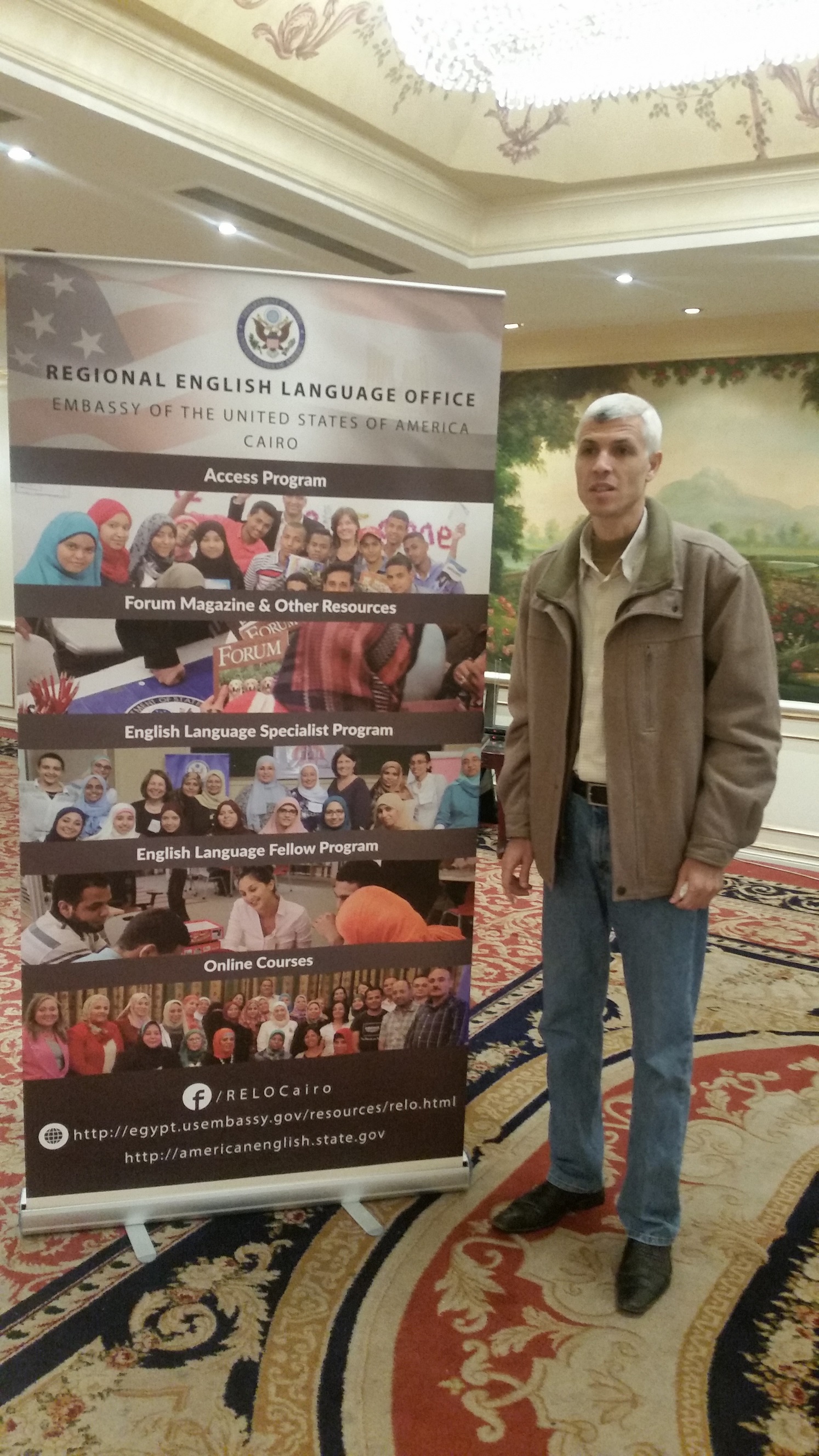 Ezzat Hassan (2015-2016) has participated in professional development programs through his country's Regional English Language Office, which are part of several Public Affairs sections of United States Embassies abroad. RELO supports English learners and teachers in Egypt and other countries through initiatives such as the American English webinars. Ezzat has found the American English website to be very helpful and he has found hundreds of resources to use and learn from. He also found opportunities for professional development such as, the American English (AE) E-Teacher program. The E-Teacher Program helps prepare English teachers to effectively teach American English and culture worldwide while improving their own English language skills. Ezzat describes the experience as: "a self -paced, online program that includes unlimited group tutoring to practice on English communication skills and observation of teaching techniques. It also includes a limited amount of private tutoring related to specific topics in the teacher training units." The program is divided into 9 units, which typically take 1 to 2 weeks to complete. As teachers successfully complete a unit, a subsequent unit will be made available. Ezzat says; "The course aims to introduce the principles of Second Language Acquisition (SLA) & Task Based Language Teaching (TBLT) to introduce a range of practical skills for teaching English and to demonstrate how learning occurs in a real teaching." After completing and meeting the requirements of the E-Teacher program he was invited to attend an annual mini-conference. For two days, Ezzat and attendees participated in many workshops and made two-month action plans on education. Ezzat was excited to see other TCLP alumni, Mohamed Mehanny (2013-2014) and Eman Mansour (2011-2012) there and believes it will be useful to all alumni to enroll these types of programs to improve their skills and stay involved in their educational community. This year, two new alumni Anas ElNahriry from Egypt (2017-2018) and Ayman Belhiyad from Morocco (2017-2018) will participate in the E-Teacher program.
Jia Lili (2015-2016) went to Zhejiang province to attend a national conference, where a lesson demonstration competition was held for seven days. There were 35 competitors from 35 provinces in China, each competitor representing their own province. Lili, as the representative of Hebei province, stood out from other representatives, winning the first prize for her lesson demonstration that focused on student-centered project based learning. Not only her school, but the leader in Hebei Education and Research Institute were proud of this award. Representing Shijiazhuang city, she also attended a provincial lesson competition, which was held by the Education and Research Institute in Hebei province. There were 31 competitors from Hebei province and she won the first prize. The audience was impressed by the lesson many saying it was a brand-new teaching perspective. Lili credits her TCLP experience for imparting her with so many new teaching strategies.Through these lesson competitions teachers in attendance were able to learn more about how to effectively implement student-centered and project based learning. Lili has now joined the experts team developing English tests for Hebei province. She is also hosting professional development for her colleagues each week and presented at workshops in Shijiazhuang city and Jian in Shandong province.
Zheng Meng (2015-2016) gave a demo class in front of 40 senior high school teachers at her school, in which she utilized communicative teaching method, cooperative learning, and multiple intelligence theory. She also carried out a Critical Language Project workshop at her school, with the assistance from two TCLP alumni and two English Language Fellows. The CLP focused on current American culture and trending American teaching practices, aiming to promote cultural exchanges, knowledge sharing and improving teaching practices at her school. Furthermore, Meng joined an English Language Fellow in Chengdu to carry out a workshop and to share her TCLP experience and cross-cultural ideas with attendees. The workshop brought together English teachers from secondary school to the university level to make them aware of opportunities to participate in exchange programs between the U.S. and China.
Samar Abdelfatah (2015-2016) and Ahmed Mohamed (2014-2015) were excited to share their TCLP experiences at NileTESOL in Egypt. This year's theme was Excellence: Student and Educators in Pursuit of Life-Long Learning. Both alumni shared about the impact of their exchanges on their pursuit of learning. Teachers in attendance learned how both have used their program experience to make a difference in the education of their students.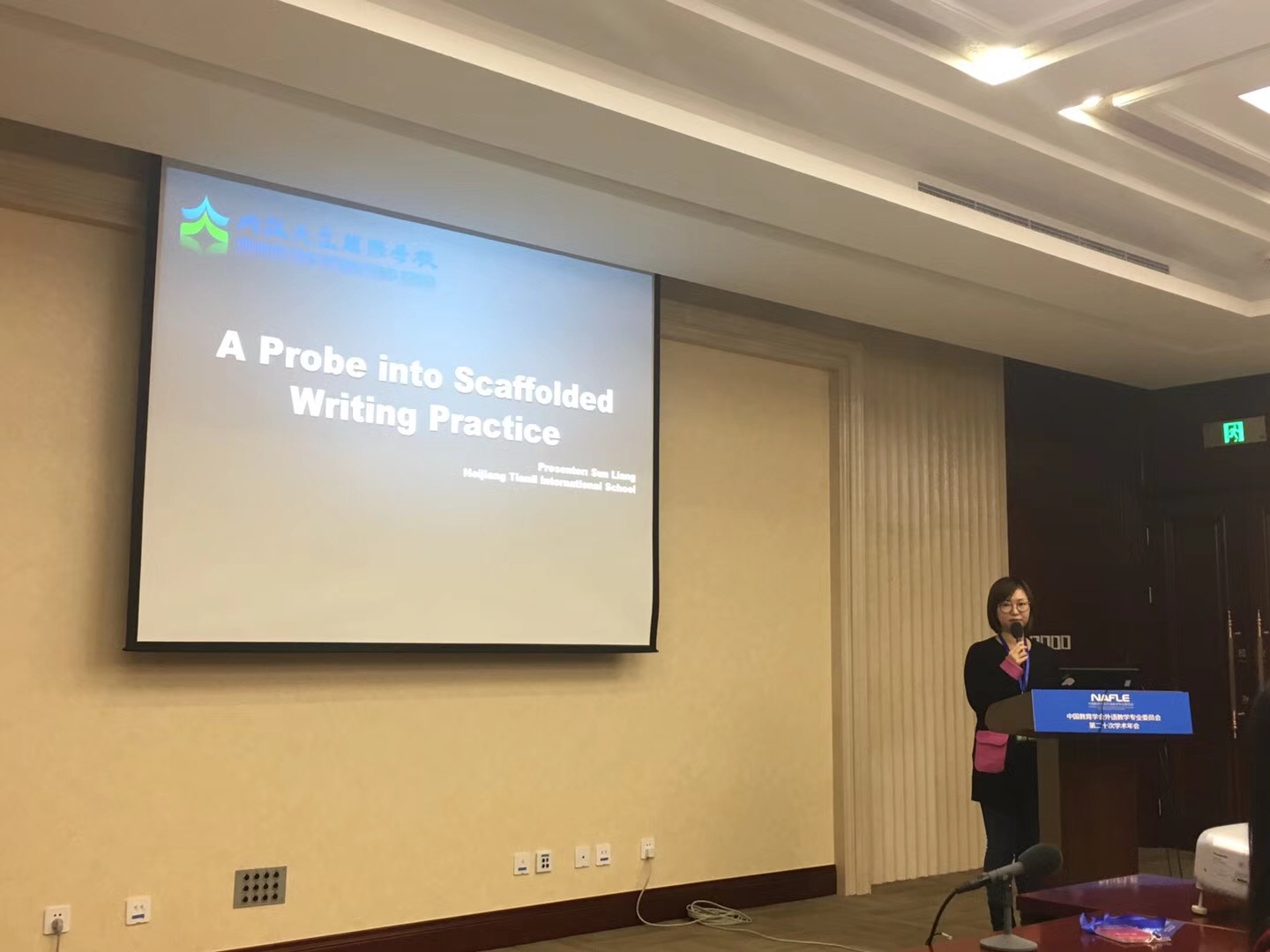 Sun Liang (2009-2010) was selected to give a presentation at the 20th NAFLE Annual Conference in Beijing. The presentation she gave was titled "A Probe into Scaffolded Writing Practice". The conference is highly regarded in the field of foreign language education in China. It lasted for three days and about 1,500 teachers and educators from all over the country attended. In the presentation, she discussed how she has applied almost everything she learned while she was on TCLP to her classroom teaching including scaffolding theory. She not only explained what the scaffolding theory was, but also demonstrated how she used the theory in her writing class. At the end of the presentation, she also mentioned how she benefited from TCLP and recommended teachers apply for TCLP. Her presentation was highly appreciated by the teachers present and they thought it was very useful and practical.
Amany Kasab (2015-2016) attended a gathering for alumni from different U.S. Department of State exchange programs. She participated in a variety of different workshops. She also worked with attendees on developing ideas for projects that can be done in their communities. She talked to U.S. embassy representatives about workshops or events that can be organized in her town in order to help teachers throughout her governorate know about TCLP and different scholarships offered by the U.S. Department of State.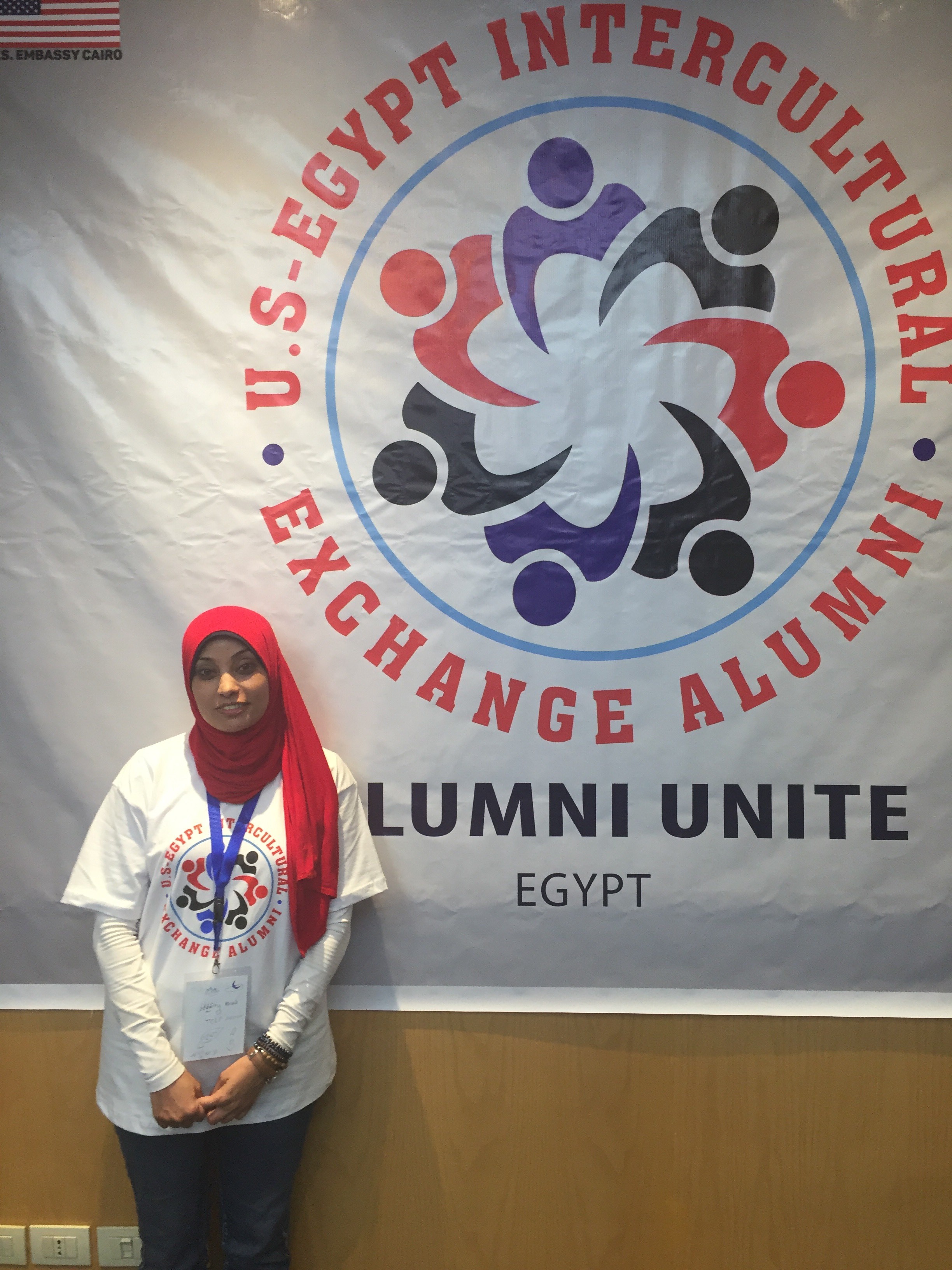 Sun Qi (2015-2016) who is currently an English teacher, and the head teacher of the international class in her school, has made a presentation to all teachers of her school about best practices in teaching and life in the US. She also gave a demonstration class to all teachers in her school. She also helped work on a professional development workshop for the all the English teachers in Tangyuan county and Huanan county, which benefited about 400 teachers.
Yin Qian (2015-2016) joined three monthly seminars and RELO round-tables at the US embassy in Beijing. They offered informative workshops on topics; such as, active learning through literature circles.
Xing Yali (2015-2016) gave a workshop at her school on "Teaching Grammar Communicatively" at her school. She also participated in an online course through the U.S. Department of State.
Fu Jing (2012-2013) won "Most Interesting Teacher of the Year" at her school 3 times in a row which she credits to sharing the teaching methods she learned while on TCLP in Phoenix, Arizona. She is dedicated to not only teaching English but spreading culture. Xing Tan (2012-2013) also incorporated what she learned on program into her classroom in China. She uses a flexible approach that blends in some techniques she learned in the U.S. such as, group work through engaging learning activities.
Tian YuanYaun (2012-2013) has been supporting high school students, as well as foreign teachers, in the Sino-Canadian program for over four years. She is designing engaging curriculum and managing courses and evaluation, as well as offering general admissions information for students to apply to universities abroad. During her classes she teaches students to think critically, be good leaders, and how to learn through multiple intelligence which she learned in the U.S. Students in the program take a trip abroad to the U.S. and Canada and she encourages students to share their experiences much like she has with her colleagues. Students are sharing learning strategies, their dream universities, and their views on current issues in North America. Therefore, not only is Yuanyuan sharing best practices from her exchange, but her students are sharing with their peers and even parents.
Liu Xin (2012-2013) has built a sister school relationship with her host school Lakes International Language Academy in Minnesota and her home school. Furthermore she was so impressed with the innovative language immersion program at her host school, that she worked to apply these best practices she learned in her own classes. This approach turned out to be effective in improving students' interests in English and very helpful to enhance their understanding. Students grades have improved and they are enthusiastic about learning American culture. Xin is now the Director of the International Department at her school and she is working on making her department a model sector in the field of foreign exchange and cooperation in first her city and then her province. She continues to grow professionally and work hard in forging new partnerships with schools.
Professional development is a key component of the TCLP experience. Participants are able to reach new heights in their career development through the workshops they attend while on program and the innovative methodologies they adopt from their U.S. host schools while teaching Arabic or Mandarin Chinese to American students. Once home, alumni are able to impact teachers and students in their community by sharing these practices. Through their dedicated work, TCLP alumni are able to mutually benefit their U.S. and home communities.